Don't throw the baby out with the bathwater
Top ranked investors suggest not to completely retreat from Asian fixed income market but to be selective
10 Oct 2018
|
Aaron Leung
In spite of the taper tantrum re-enacted this year, most Astute Investors still see relative value in Asian high-yield bonds and are willing to accumulate more in the next sell-off round.
According to the latest survey findings, ABR found that more than 75% of investors are still seeing relative value in Asian G3 high-yield bonds (fig, 1), but the key is to be selective.
"Against a backdrop of poorer macro pressures stemming from FX vulnerabilities, I think companies will face pressure from FX mismatches which may dent the EBITDA outlook," says Jonathan Siow of Amundi Singapore. Apart from the FX mismatching, rising rates will also make it difficult for companies, especially high-yield issuers to service or refinance their debt. Rising defaults and re-pricing of risky assets are expected.
Fig. 1
"Asia high yield cheapened a lot compared with the US but outperformed their Latin and Emerging European counterparts this year…in particular, we still like Asian coal and oil credits as the commodity cycle is being extended by China's Belt & Road Initiative. A decade of solid repayment history in the Chinese property sector with an exceptionally high recovery rate makes a strong investment case too," states Desmond How, head of Fixed Income at Gaoteng Global Asset Management.
"Investors need to [be] extremely selective on Asia high-yield bonds. Unlisted and opaque credits despite selling off don't offer good risk-reward as idiosyncratic risks continue to be high. Also, investors need to be careful on LGFVs (especially those that are unrated) whose policy role or linkage to local government is in question. Large cap China HY Property names provide some value but supply pressure should continue," says Abhijeet Neogy of PIMCO Asia.
Some investors highlight the bright side of the asset class, stating that Asian high-yield bonds are "probably one of the cheapest HY segments globally with a strong set of fundamentals". Dhiraj Bajaj, head of Asia Fixed Income at Lombard Odier expects, as the "capital comes back into the asset class through the cycle, this segment will undoubtedly provide double-digit returns".
When given an imaginary situation of another sell-off in Asian bond markets, over half of the investors (55%) see opportunities and point of entry (fig.2), including international investors.
"We are very positive for the Asian debt market as a whole in the long term, but we expect a lot of short-term pain for global debt markets which Asia won't be able to escape. We will be looking to pick up bonds should the next financial crisis materialize. Until then we will be trading bonds very selectively," comments Chris Sano at Ox Global Investments, based in the UK.
Fig. 2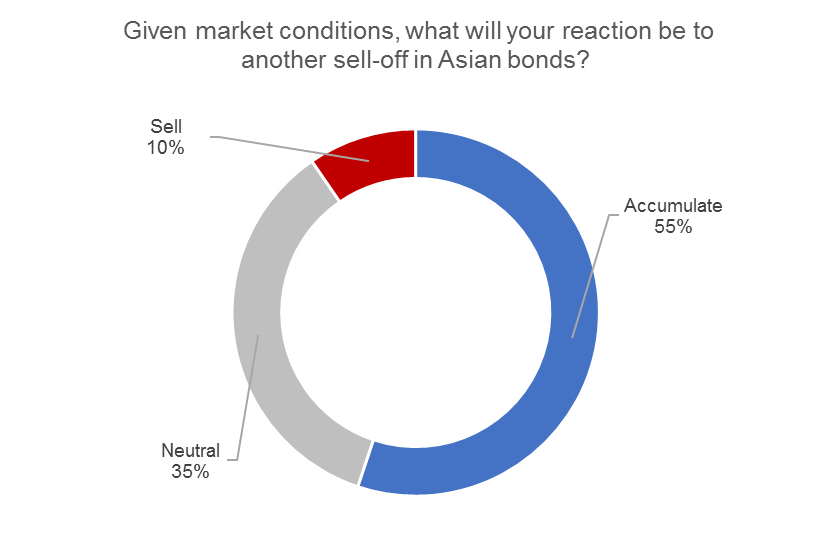 Methodology
In 2018, about 880 top-rated individuals including analysts, economists and strategists, salespeople and traders were invited by the Asset Benchmark Research to nominate the most Astute investors, based on their knowledge of the credits and markets, trading skill and acumen in making investment decisions. As such the ranking also includes investors who are not included in absolute return or performance assessments. The nominations collected are subject to two weightings: the first according to the rank in the nomination form and the second determined by the rating of the individual casting the vote. The latter is determined according to the annual survey of investors.
For the latest rankings of the most Astute Investors in Asian G3 bonds for 2018, please click here.
For the latest rankings of the Top Investment Houses in Asian G3 bonds for 2018, please click here.
To find out more about Asset Benchmark Research and our Asian G3 Bond Benchmark Review, please click here.
Sponsored Article