US rates matter…but not always
Here are the most Astute Investors in Asia and their views on decoupling
Domestic liquidity conditions in Asia could become an increasingly important factor that determines the direction of rates in local markets, a survey of Astute Investors by Asset Benchmark Research (ABR) reveals.
However, US interest rates continue to hold sway especially at the short end. A majority (52%) of respondents place greater value on the impact of US rates on Asia. The ABR survey asked ranked Astute Investors for their views on the potential decoupling of interest rates between emerging markets and the US. More than 200 Astute Investors participated.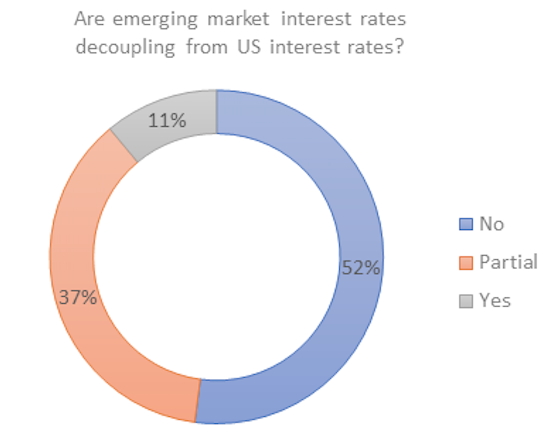 Note: Partial includes those who see US interest rates as one of the factors (but not necessarily the dominant one) influencing emerging market rates.
Source: Asset Benchmark Research
A minority of investors say that rate decoupling is happening, citing the world's second largest economy. "China has been easing monetary policy, which has led to declining interest rates and thus renminbi bonds offer diversification benefits to investors," shares Ken Hu, chief investment officer of Invesco who specializes in Asia-Pacific fixed income.
Strong economic fundamentals are another element supporting the decoupling theory. "EM (emerging market) countries with stronger economic fundamentals could better weather rising US rates than weaker peers and even benefit from it if perceived as a safe haven among EM," explains a fund manager at an insurance company in Malaysia.
Investors believe onshore liquidity, oil prices, and the inflation rate are having a bigger impact on local market rates. Growth differentials between EM and DM (developed markets) still prevail. Take the case of Thailand where the current account is strong at +8% to GDP along with abundant onshore liquidity. This can cap long-dated yields. The only concern is the rising oil price, which has already hit two-year THB rate by 40-45bps," notes Arsa Indaravijaya, head of investment of Government Pension Fund, Thailand.
Not everyone believes local conditions are more important. "EM markets will definitely be impacted by the US interest rate movement with reduced premium, owing to the narrowing of the interest differential between local and US rates," says Alfred Mui, head of Asian credit at HSBC Global Asset Management, Hong Kong. Yet he believes that domestic macro factors such as inflation, growth, currency, external positioning and political considerations will dictate how resilient a particular EM country is amid increasing US interest rate volatility.
Another investor shares the same view. "Decoupling can come only in scenarios of adverse monetary policy divergences between DM and EM which I am not seeing," Alvin Maala, a senior portfolio manager at Nikko Asset Management in Singapore, points out.
The Asian Local Currency Bond Benchmark Review covers 10 markets including China (onshore and offshore), Hong Kong, India, Indonesia, Malaysia, the Philippines, Singapore, Taiwan and Thailand. It has been conducted annually since 2000. It provides a wealth of data on the product needs of investors and the market penetration of the banks that are active in local currency bonds. It also provides detailed analysis of investors' buying behaviour when selecting their counterparties, giving unprecedented access into the minds of investors.
To view the rankings of the most Astute Investors in Asian local currency bonds by country, please click here.
To view the rankings of the top five investment houses in Asian local currency bonds by country, please click here.
To find out more about Asset Benchmark Research and our Asian Local Currency Bond Benchmark Review, please click here.
-------------------------------------------------------

Social Media Links (This section can be seen in office only):
Twitter : https://www.theasset.com/article-single.php?id=34629&social=twitter
Linkedin : https://www.theasset.com/article-single.php?id=34629&social=linkedin
Facebook : https://www.theasset.com/article-single.php?id=34629&social=facebook