Julius Baer: Shanghai still costliest city for luxury wine in Asia, Hong Kong most competitive
China to be the world's second-largest wine market by 2020
Julius Baer has released its inaugural Wealth Report: Asia feature on luxury wine, one of the key components of the Julius Baer Lifestyle Index. This year's report compares the prices of a bottle of Château Lafite Rothschild 2000 across five Asian cities that are key wine markets in the region. Shanghai remains the costliest city to get a tipple, whereas Hong Kong is the most competitive. The report also examines the increasing sophistication of Chinese wine consumers and explores fine wines as an alternative investment.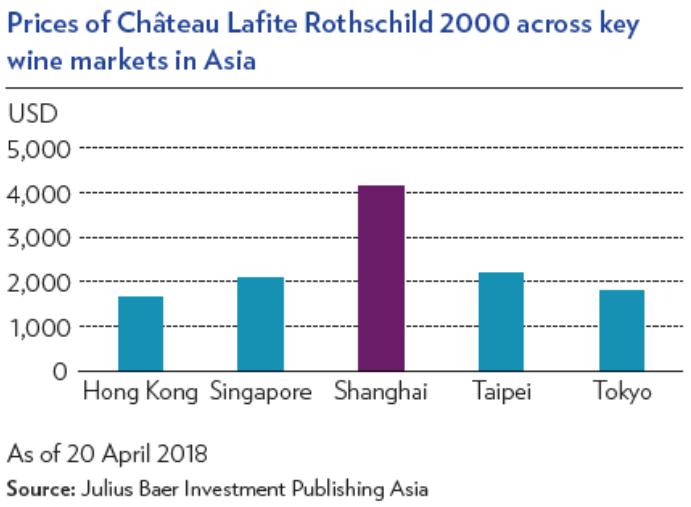 Consistent with previous years' findings, Shanghai remains the costliest city at USD 4,142 for a bottle of Château Lafite Rothschild 2000, whereas Hong Kong is the most price competitive at USD 1,677. Shanghai's premium over other Asian cities is largely due to the burgeoning Chinese wine-drinking market, which is expected to grow by 25% this year. By 2020, China is set to become the world's second-largest wine market, reaching 80 million wine consumers (FT.com).
Rajesh Manwani, head of markets & advisory solutions Asia at Julius Baer, said: "Apart from higher taxes in China, luxury wine prices in the mainland are driven by continued strength in Chinese demand, amid rising disposable incomes, aspirational consumption, and increasing westernisation. Luxury wines such as the Château Lafite Rothschild continue to be highly sought after in China because of their quality and their perception as a status symbol."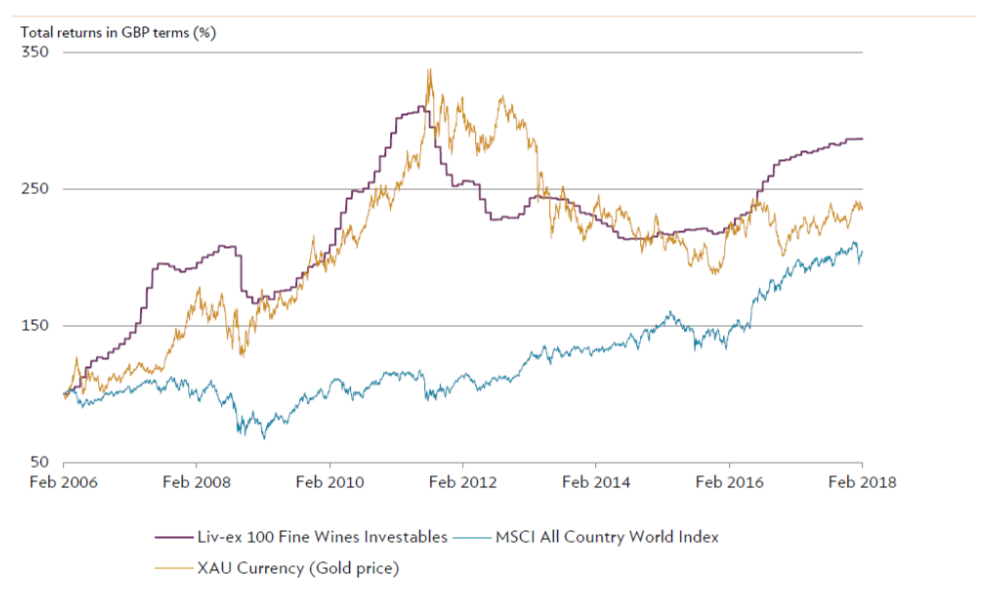 The report also follows Moët Hennessy's journey into the Himalayan foothills in Yunnan and into the glasses of Chinese consumers. Chinese thirst for luxury wines and the country's conducive terroir have attracted the interest of major international wine producers. "In China, you can do excellent wines that are comparable to those in Bordeaux, Napa vineyards, and Australia," said Christophe Bourrie, managing director of Prestige Brands at Moët Hennessy. Ao Yun, a cabernet sauvignon by Moët Hennessy, retails for more than USD 300 a bottle.
The report also appraises the value of fine wines as an alternative investment. Over a 12-year period, fine wines outperformed global equities and gold, returning 250% according to the Liv-ex 100 Fine Wine Investables Index. Over the same period, fine wines are also less volatile compared with commodities or gold. Investors can also toast an annualised 7.5% return on investment over the past 16 years.
-------------------------------------------------------

Social Media Links (This section can be seen in office only):
Twitter : https://www.theasset.com/article-single.php?id=34546&social=twitter
Linkedin : https://www.theasset.com/article-single.php?id=34546&social=linkedin
Facebook : https://www.theasset.com/article-single.php?id=34546&social=facebook