What factors are important in choosing where to locate a corporate treasury centre?
In centralizing treasury operations, CFOs and treasurers cited market infrastructure, market liquidity, and proximity to regional headquarters as the top three considerations
IN locating a corporate treasury centre (CTC), CFOs and treasurers look primarily at which cities have the most advanced market infrastructure, over other factors such as tax, human capital, and free trade agreements.
That's according to the latest data snapshot from Asset Benchmark Research's (ABR) ongoing Treasury Review 2018, which has so far canvassed the views of over 600 corporate treasurers and CFOs in Asia.
Multinational corporations (MNCs) often have surpluses or scarcities of funds in different currencies among their various branch locations. As such, they centralize their finance and treasury operations using CTCs to perform functions such as managing liquidity, financing, foreign exchange, investment and hedging activities.
When ABR asked CFOs and treasurers for what reasons do they centralize (or plan to centralize) their Asia-Pacific operations, they ranked advanced market infrastructure, market liquidity, and proximity to regional headquarters as the top three factors.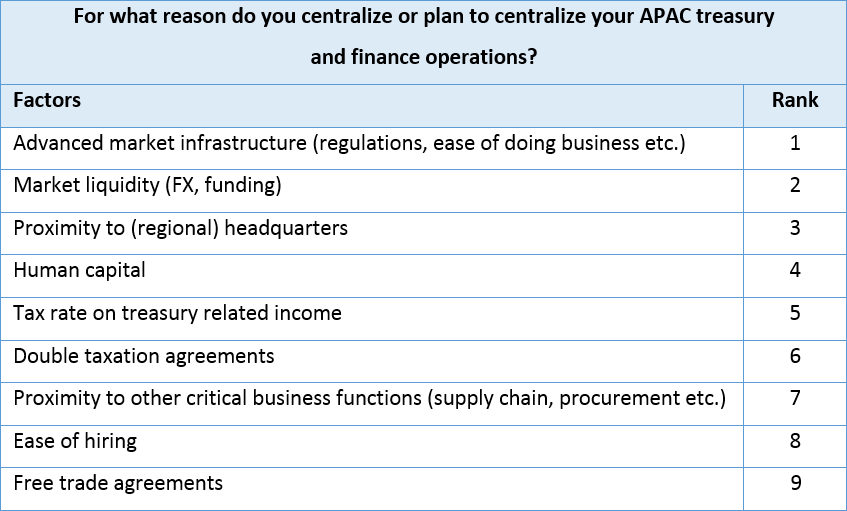 Source: Treasury Review 2018, Asset Benchmark Research
One finance manager at a large Chinese MNC explains the reasoning behind locating their treasury centre in Hong Kong: "It's a great place if we want to do renminbi transactions overseas. That's the most important factor for us, because we are a mainland China corporate and most of our expenses here in China are in renminbi but we receive US dollars from overseas bills."
In fact, most respondents to the survey chose Hong Kong as their preferred location for a CTC (58%). Hong Kong ranks fourth on the Global Financial Centres Index for its strong financial infrastructure, established legal system, ties to China and friendly tax policies.
"I think Hong Kong is still a key place for doing such FX settlement and for renminbi clearance. It's also very close to our headquarters so it's easier to manage," adds the finance manager.
In early June 2016, the Hong Kong government passed a law to offer a concessionary corporate income tax rate at 8.25% for specific treasury activities of qualifying CTCs. This was a 50% reduction on the previous rate of 16.5% and aims to encourage more companies to set up treasury centres in the city. However, according to the ABR survey, the tax rate on treasury related income does not rank highly as a factor, being ranked fifth by treasury professionals.
In setting up a CTC, not all treasury activities are centralized. According to the ABR survey, CFOs and treasurers are most likely to centralize functions such as bank relations, bank communication (via Swift for example) as well as financial risk management such as FX hedging and optimizing interest rates at a regional or global level.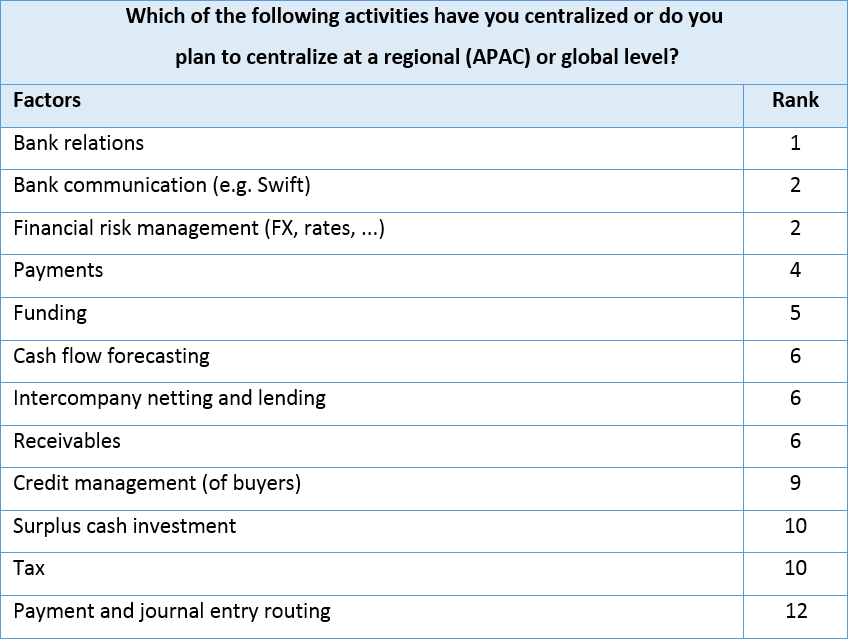 Source: Treasury Review 2018, Asset Benchmark Research
These data are part of ABR's ongoing Treasury Review 2018. To participate, please click here.
Find out more about The Asset 4th Asia Treasury & Trade Summit please click here.
Background
Since 2014, Asset Benchmark Research has gathered the views of corporate treasurers and CFOs in Asia on their current and planned treasury activities in the annual Treasury Review.
The survey asks about a range of topics such as their treasury set up, bank relations; risk management; review of treasury solutions and their outlook for the year ahead. Corporates are asked about the challenges they face in their treasury operations both from a daily operational and long-term strategic perspective.
There is also an emphasis on reviewing how corporates leverage technology in their business either to automate payables, improve reconciliation or rationalize banking connectivity. The review is conducted in the first half of the year.
-------------------------------------------------------

Social Media Links (This section can be seen in office only):
Twitter : https://www.theasset.com/article-single.php?id=34240&social=twitter
Linkedin : https://www.theasset.com/article-single.php?id=34240&social=linkedin
Facebook : https://www.theasset.com/article-single.php?id=34240&social=facebook