China leverage and shadow banking biggest threats to growth
Attendees at Fitch on China Forum rate leverage and shadow banking as biggest threats to China's economy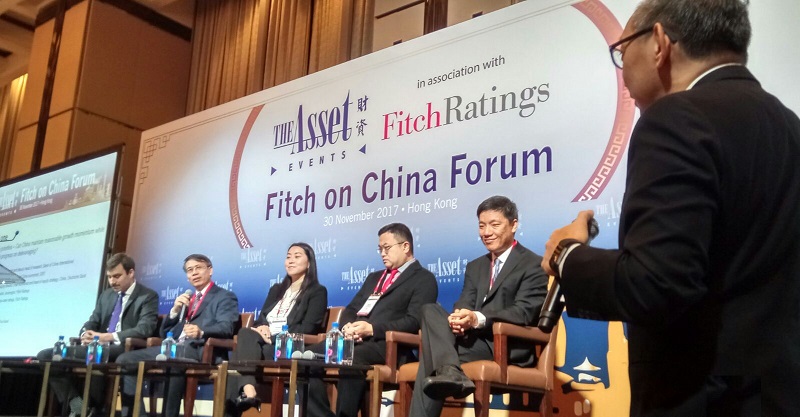 Panellists at the Fitch on China Forum. From left to right: Andrew Fennell, Steve Wang, Grace Wu, Chris Leung, and Zhiwei Zhang
FINANCIAL system leverage and shadow banking pose the biggest threat to China's economic growth, according to a live poll of attendees at the Fitch on China Forum.
The forum was organized by The Asset in association with Fitch Ratings and held on November 30 at the Four Seasons Hotel in Hong Kong.
During the forum, attendees were asked: "What is the biggest threat to China's economic growth?" A large minority of attendees (40%), said the biggest threat came from the financial system's leverage and shadow banking, 29% said corporate or local government bond defaults, 20% said the rise in global interest rates, and 11% responded a property market collapse.
"We would tend to agree with the audience in terms of priorities identified here," says Andrew Fennell, director of sovereigns at Fitch Ratings.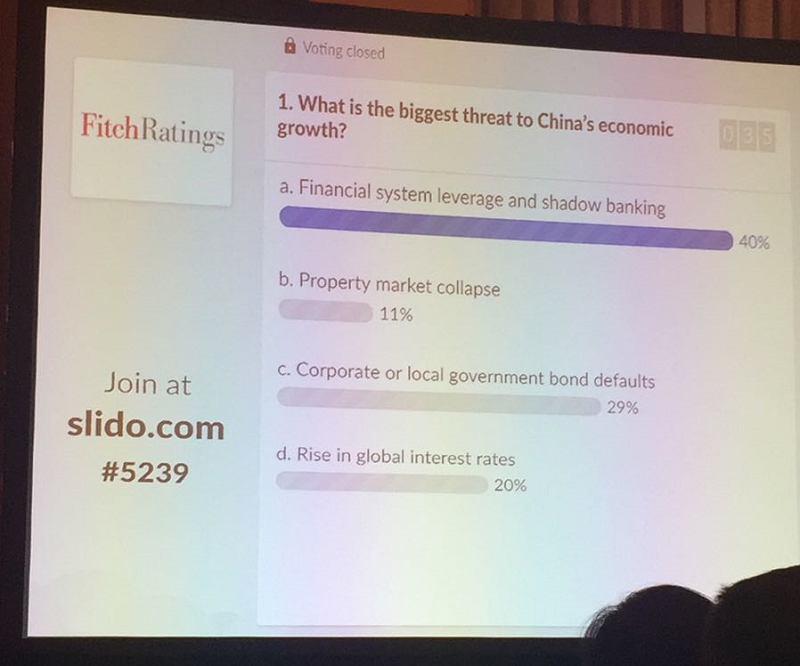 "Deleveraging is not happening at the real economy level in China. It doesn't appear that that's actually the intention of the authorities right now, and that's a risk for us, for those of us who look at sovereign ratings and credit ratings," adds Fennell.
The number one takeaway from the 19th National Party Congress, explains the chief economist and head of equity strategy for China at Deutsche Bank, Zhiwei Zhang, is "the shift away from growth targets to the quality of growth and containing the risk." However, he adds, "risk in China is rising."
The other panellists were broadly in agreement. "A profound change [in China] has been the rise in the complexity of the financial system, the policy challenges that the officials have to deal with, the rise of shadow banking, and the onset of capital outflows, which have since stabilized," says Fennell.
Debt in China is currently around 260%-270% of GDP. Steve Wang, deputy head of research, Bank of China International, however, still sees this as being manageable. "The SOE and local government space has been the focus of the government in terms of deleveraging," he explains. He takes Japan as a point of comparison, where debt levels are currently higher.
Grace Wu, head of China bank ratings at Fitch Ratings, notes risks aren't limited to China's leverage: "Within the financial space, there are some unknown risks, such as cyber risks."
"At the same time, we have rating agencies and research institutions reminding China [about their debt] on almost a daily basis," adds Chris Leung, the chief China economist at DBS.
-------------------------------------------------------

Social Media Links (This section can be seen in office only):
Twitter : https://www.theasset.com/article-single.php?id=33817&social=twitter
Linkedin : https://www.theasset.com/article-single.php?id=33817&social=linkedin
Facebook : https://www.theasset.com/article-single.php?id=33817&social=facebook