Pick up in LGFV US dollar bond issuance expected in 2018
Relaxed regulations following 19th National Congress could lead to increased issuances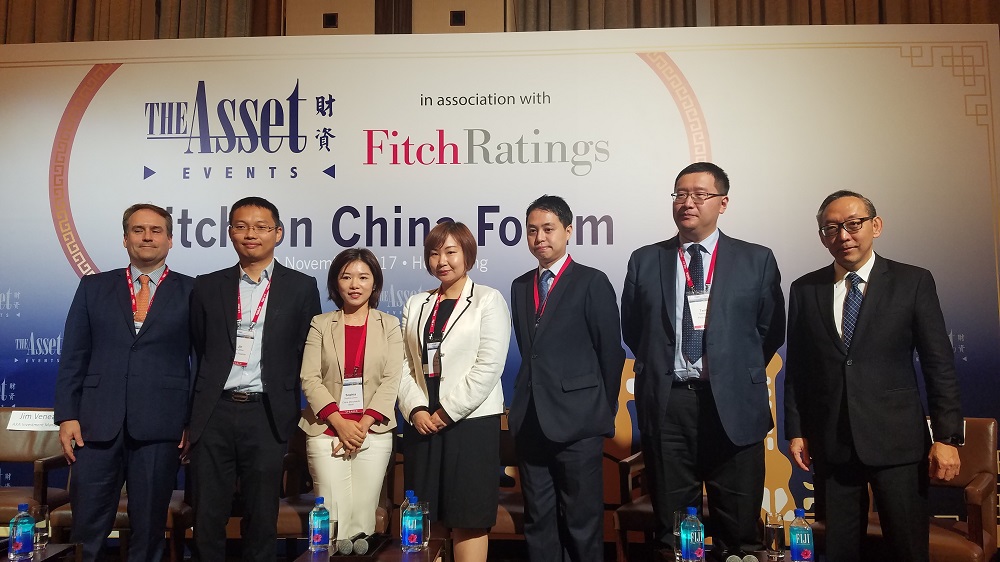 Panellists at the Fitch on China Forum. From left to right: Jim Veneau, Jin Zhou, Sophia Zhou, Ying Wang, Gregory Suen, Terry Gao, and Daniel Yu.
LGFVs (local government financing vehicles) are expected to once again become frequent issuers in the offshore market in 2018, according to a panel of experts at the Fitch on China Forum.
The forum was organized by The Asset in association with Fitch Ratings and held on November 30 at the Four Seasons Hotel in Hong Kong.
Following a period of restrictions governing the issuance of offshore bonds by LGFVs, China's National Development and Reform Commission relaxed the restrictions after the 19th National Congress of the Communist Party of China, held between October 18-24 this year.
"Five years ago, when I introduced this sector to offshore investors, they viewed me as an insurance sales agent," says Terry Gao, senior director, international public finance at Fitch Ratings. "But investors are changing their mindset, in the sense that China is different from other countries. Even with a very strong pipeline for the LGFV sector over the past two years, offshore issuance only accounted for 3%-4% of the total LGFV sector, compared to onshore."
In early November, Yunnan Energy Investment's offshore bond attracted an order book of US$5.2 billion, with an oversubscription of 8.7x, rebooting the offshore LGFV market.
"LGFVs only diversify one percent to the offshore market. There will continue to be a lot of supply of LGFVs in US dollar bond sectors," says Sophia Zhou, head of overseas investment, asset management department at China Merchants Bank.
While the LGFV sector is relatively unfamiliar to non-Chinese investors, the increasing supply of LGFV bonds over the past two years has drawn attention from international investors.
"The LGFV market is quite unique to the Chinese market if you just look at fundamentals. It is very difficult for you to get a good judgement in terms of the quality of the companies," says Gregory Suen, investment director at HSBC Global Asset Management. "There are a lot more factors we are looking at, like how closely the government is related to the sector, and whether there are alternative funding sources for these LGFVs."
Yet, the traditional credit analysis approach may not apply so well to Chinese LGFVs. "Many people look at interest coverage ratio, net gearing, but all these ratios do not apply to LGFV analysis," says Jin Zhou, head of fixed income and asset management at Orient Finance. "The onshore analysis framework is pretty mature and we are trying to bring that to the offshore market."
"We are very lucky in the offshore market in a sense that the default and recovery scenarios have not been widespread," says Jim Veneau, head of fixed income, Asia, at AXA Investment Managers. "The spread pick up is favourable, but the evaluation will depend on whether the spread pick up can compensate for the level of subordination."
-------------------------------------------------------

Social Media Links (This section can be seen in office only):
Twitter : https://www.theasset.com/article-single.php?id=33815&social=twitter
Linkedin : https://www.theasset.com/article-single.php?id=33815&social=linkedin
Facebook : https://www.theasset.com/article-single.php?id=33815&social=facebook