German trade body warns against blocking Chinese investment
European politicians aim to ensure that foreign investments do not pose a threat to critical infrastructure, key technologies or access to sensitive information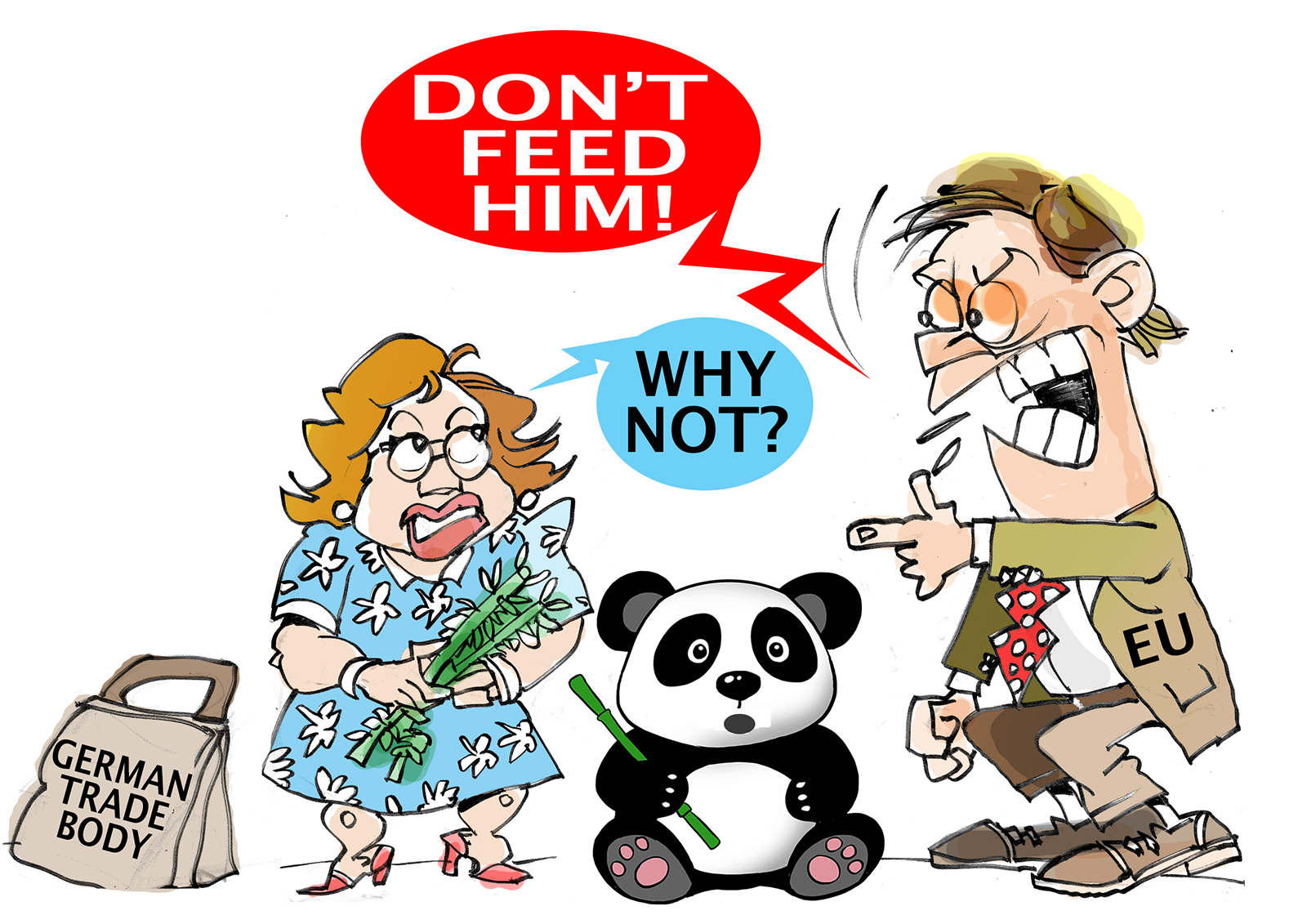 The chairman of the foreign trade committee at the influential Mechanical Engineering Industry Association (VDMA) in Germany has warned against putting up too many barriers to foreign investment, and says that politicians are showing signs of losing faith in the market.
Rainer Hundsdoerfer, who is also CEO of Heidelberger Druckmaschinen, expressed his concern on a panel at an event held in Brussels on September 5, organised by think tank European Centre for International Political Economy (ECIPE) in co-operation with the VDMA.
The seminar was titled: European Technology for Sale? Threats and Opportunities of Chinese Investments in Europe and European Investments in China.
It was held in the context of the proposal to establish an EU investment screening framework, as well as the ongoing negotiations of the EU-China investment agreement.
Themes addressed included: how do European technology companies benefit from Chinese investors? What are the risks identified by European policymakers? How do companies assess these risks? Which particular features distinguish Chinese investors from other investors, e.g. investors from the US and Japan? Which technology sectors are particularly sensitive regarding Chinese investments in the EU and vice versa? What's in the making in Brussels with respect to investment screening? What are the investment conditions for European companies in China and what must be done to ensure that European companies in China are treated equally with domestic companies?
With regard to the threat of European cutting-edge technology being sold out, Hundsdoerfer, said that he saw little reason to worry about growing Chinese involvement. "My experiences, and that of recently acquired mechanical engineering companies, with China are positive," he told the audience. Instead of threatening China with barriers to investment in Europe, the EU should do more to promote further market liberalisation in China.
"China has grown up and no longer needs to protect itself from foreign investors," he said. "The country is ready for free competition".
Also appearing on the panel was Member of the European Parliament (MEP) Iuliu Winkler, vice-chairman of the European Parliament's Trade Committee. He said that in China business relations always have a political dimension that needs to be taken into account, and that the EU needed its own long-term strategy. But Winkler also promoted dialogue with China, saying that the right way was cooperation, not confrontation. Progress on the EU-China investment agreement is needed, after many years of negotiation. Winkler is a key figure in these negotiations.
However, Marco Chirullo, deputy head of the Department for Trade with the Far East in the EU Commission's Directorate-General for Trade, which is reponsible for EU policy on trade with countries beyond its borders, took a tougher line.
"China is playing an unfair game on the world markets, and is exploiting WTO rules to its own advantage," he says, and calls for more intensive analysis of investments from China in the future.
Within Germany, the VDMA has spoken out against proposals to lower the threshold for review and possible blocking of takeovers on security or other grounds.
At present a review process can be started once a 25% shareholding is acquired, but there are proposals from the Federal Ministry for Economic Affairs and Energy to lower this threshold to 10%, at least in the area of critical infrastructure such as electricity or IT networks. And German press reports suggest that some colleagues in the cabinet of Economics Minister Peter Altmaier (CDU) do not think this goes far enough, and are arguing for no lower limit on the size of a stake that can prompt a review.
This review comes not long after a previous reconsideration of trading relationships, for the German government only tightened its Foreign Trade Ordinance in July 2017. In addition to the long-standing ability to initiate a review beyond 25%, new rules set out an obligation to report the sale of shareholding in sectors such as critical infrastructure and key technologies. The written notification shall include basic information on the planned acquisition, the buyer, the domestic company that is the subject of the acquisition, and the respective fields of business.
On 1 August the German government issued the first ever (precautionary) order prohibiting the acquisition of a German business by a foreign investor.
According to law firm Allen & Overy, the Leifeld case underlines the change in attitude based on which the German rules on foreign direct investment control are administered. Going forward, foreign investors will have to analyse even more thoroughly than before whether the proposed acquisition may cause any concerns from the German government.
Leifeld Metal Spinning AG is a German mechanical engineering company with a turnover of about 40 million euros and a technology leader with regard to supplies such to the aircraft, aerospace and nuclear industry. Leifeld's shareholders planned to sell all their shares to Chinese investor Yantai Taihai.
The agenda of the German government's meeting on 1st of August 2018 included the proposal to block the Leifeld transaction for concerns related to German public order and security. Just a few hours before the meeting Yantai Taihai abandoned the plan to acquire Leifeld. Nevertheless, the German government adopted a precautionary blocking decision to prevent any future completion of the transaction.
In another recent case, the German government used a different strategy to block the sale of a 20% stake in electricity transmission company 50Hertz. In this instance Germany was helped by the fact that majority shareholder Elia of Belgium had first right of refusal on the stake up for sale. Elia exercised this option, and then sold the stake on to state development bank Kreditanstalt fur Wiederaubau (KfW).
At the European Union level, back in September 2017 the EU Commission proposed a mechanism for stronger controls on foreign investment in the EU. A compromise must be negotiated between Parliament, Commission and Member States.
In June the EU ambassadors agreed on the Council's stance on the proposed regulation on screening of investments.
The proposed regulation establishes a framework at EU level for analysing investments from third countries in strategic sectors, and creates a cooperation mechanism among Member States, and also with the Commission, with regard to investments likely to affect security and public order.
"Foreign direct investments are a major source of innovation, growth and jobs. Keeping the EU open to investment is crucial, but we also need to have the right tools to protect our key technologies from strategic threats and ensure that our essential interests are not undermined," Emil Karanikolov, Bulgarian Minister for Trade, commented at the time.
The Council statement noted that currently fewer than half of EU member states have legislation in place that allows them to review FDIs. It said that in recent years there has been a surge in investments relating to critical EU assets which are not the result of normal market forces.
For example, opaque state-owned enterprises or private firms with close government links are buying sensitive EU firms. This includes those involved in cutting-edge or dual use technologies (such as artificial intelligence, robotics or nanotechnologies) or others holding strategic infrastructure assets which could have a potential impact on the EU's security or public order.
The investment screening proposal has been identified as a legislative priority by all three EU institutions.
Proposals for new tools to check that foreign investment in EU countries does not threaten their security or public order were approved by the European Parliament Trade Committee in May.
MEPs backed plans to set up a mechanism to screen foreign direct investment (FDI) in a transparent, predictable and non-discriminatory manner. The aim is to ensure that foreign investments do not pose a threat to critical infrastructure, key technologies or access sensitive information.
To foster Member States' cooperation on inward FDI, share best practices and address possible concerns, MEPs suggested setting up an Investment Screening Coordination Group, to be chaired by the Commission and composed of member states with the European Parliament as observer.
The plan at EU level is to reach an agreement within the current legislature. The European Parliament has five-year terms, and there will be new elections in May 2019, so there is considerable time pressure as many in Brussels would like to see a deal completed by the end of this year.
-------------------------------------------------------

Social Media Links (This section can be seen in office only):
Twitter : https://www.theasset.com/article-single.php?id=35006&social=twitter
Linkedin : https://www.theasset.com/article-single.php?id=35006&social=linkedin
Facebook : https://www.theasset.com/article-single.php?id=35006&social=facebook