CALC launches China's first dollar-denominated ABS to fund Belt Road
New dollar-denominated ABS adds diversity to types of financial products available in China, fills void of foreign currency ABS products, and provides investing and hedging tool for domestic investors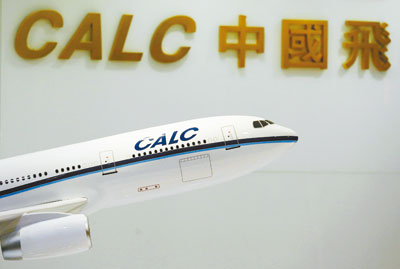 HONG Kong-listed China Aircraft Leasing Group Holdings Limited (CALC) has launched China's first dollar-denominated asset-backed security (ABS), bringing a new financial instrument to support the development of the Belt Road initiative.
"We have set another precedent by introducing foreign currency-denominated asset securitized products and providing the aviation industry and the leasing industry with a new financial product category," says CALC chairman Chen Shuang. "As always, CALC will support the development of the Aviation Silk Road as part of China's One Belt, One Road (OBOR) initiative."
The issuer is China Asset Leasing Company, a company registered in Tianjin. The bonds are listed on the Shanghai Stock Exchange. Huatai Securities (Shanghai) Asset Management Co is the manager of the transaction, which is backed by cashflows on a pool of aircraft.
Over the past five years Chinese companies have made large investments in aircraft, and have emerged as the driving force in the global leasing industry. In a statement, CALC highlighted the role of leasing within the Belt Road initiative.
"In order to execute on the OBOR strategy, strong financing support is required via multi-level financial instruments, including different options of financial and operating leasing to meet the growing demand for commercial aircraft to deliver the passenger traffic created from the construction of the OBOR," CALC says.
"The ABS programme is not only a meaningful implementation of the mandate from the 19th National Congress of the Communist Party of China (CPC), but also an important step by all parties involved in actively executing on the One Belt, One Road strategy and supporting the real economy," it adds.
At the 2017 National Financial Working Conference, General Secretary Xi pointed out that in order to develop the Belt Road, China must develop its financial platform and related financing mechanisms.
In the meantime, in accordance with the "Civil Aviation Administration of China (CAAC)'s Proposed Action Plan for OBOR Initiative", CAAC will continue to promote the liberalization of air rights of the countries and regions located along the Belt Road, focusing on the smooth convergence of domestic and international air route networks.
CALC also notes that currently, dollar-denominated fixed income products in mainland China lack investment options. This ABS product is denominated and settled in US dollars, which adds diversity to the types of financial products available in China, fills the void of ABS products in foreign currency, and provides an important investing and hedging tool for domestic investors. It also provides a high-quality product category for dollar-based funds for enterprises and institutions in mainland China.
It is hoped that the dollar-based asset pool will gradually develop in mainland China, attracting more dollar investment and help investors to achieve stable returns and reduce the outflows of dollar assets from China. Meanwhile, this will also serve as the price guidance for China's fixed-income products, both short- and long-term.
CALC adds that the deal promotes the development of a diversified capital market, implementing the spirit of the 19th National Congress of the Communist Party of China, and promoting an open economy. Because of the complexities involved with foreign currency, aircraft leasing assets, regulatory policies, and specialized transaction structures, the hurdles for innovation in aircraft leasing finance have always been high.
Under the guidance of China Securities Regulatory Commission (CSRC), with strong support from the country's foreign exchange department, Shanghai Stock Exchange and China Securities Depository and Clearing Corporation Limited jointly founded the first fixed income product denominated and settled in foreign currency. Over the span of two years, CALC and Huatai Securities Asset Management overcame numerous challenges to create a stable and viable product structure and trading arrangement that are in compliance with national policy.
Winnie Liu, deputy chief executive officer and chief commercial officer of CALC, says that "since introducing the realization of finance lease receivables into China in 2013, CALC has been exploring the development of a variety of products to meet investors' ever-changing demands. The successful debut of this product category provides another safe, stable and innovative option for US dollar-denominated fixed income products which are still rare in China."
As of September 2017, CALC ranked as one of the top ten global aircraft lessors with its combined asset value of fleet and order book exceeding US$10 billion, according to ICF International, an aviation and aerospace consulting firm. As at December 27 2017, CALC has a fleet of 106 aircraft.
On December 29 CALC announced that it had entered into an aircraft purchase agreement for fifty Airbus A320neo aircraft with an aggregate list price of approximately US$5.42 billion. These Airbus A320neo aircraft will be delivered to the Group in stages in 2023. Following this incremental order, CALC's total order book with Airbus will increase to 202 aircraft.
-------------------------------------------------------

Social Media Links (This section can be seen in office only):
Twitter : https://www.theasset.com/article-single.php?id=33950&social=twitter
Linkedin : https://www.theasset.com/article-single.php?id=33950&social=linkedin
Facebook : https://www.theasset.com/article-single.php?id=33950&social=facebook