Angela Merkel's weakened government means uncertainty for Chinese investors
Election creates uncertainty amid new coalition, but brings departure of anti-China hard-line foreign minister, according to contributing editor Michael Marray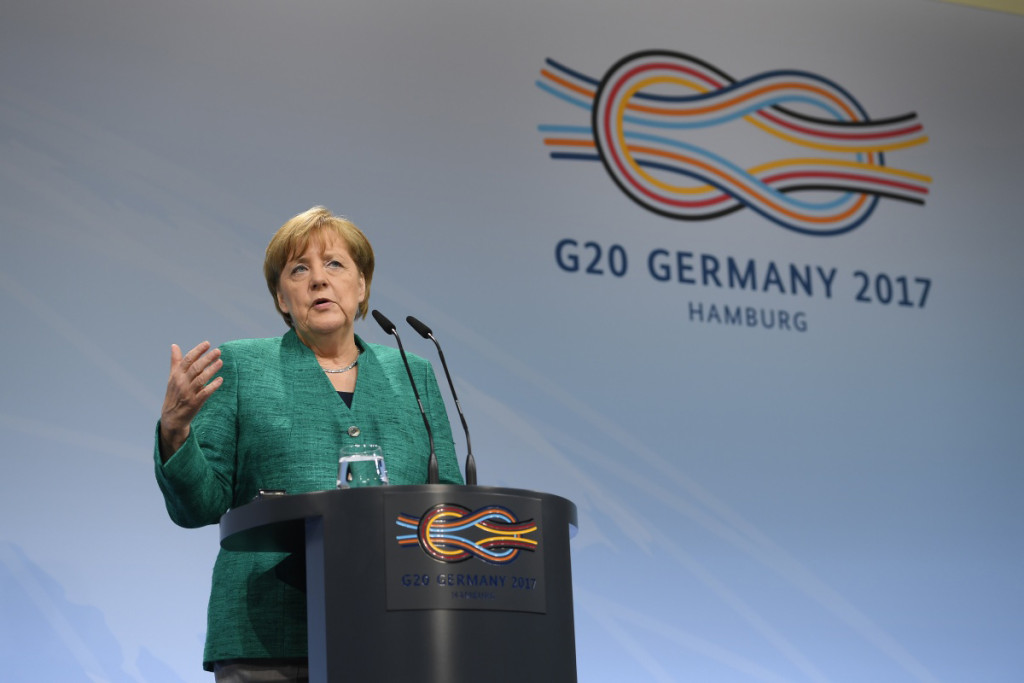 Angela Merkel speaking at the G20 Summit in Hamburg, Germany. Photo: G20.org
GERMAN Chancellor Angela Merkel has won a fourth term in office but with a significantly reduced share of the vote. Merkel will now have to negotiate with new coalition partners who hold differing views on foreign investment. The election also means that foreign affairs minister Sigmar Gabriel, who has sometimes taken a hard-line with China, will leave office.
Though Merkel's Christian Democratic Union (CDU) and its Bavarian sister party the Christian Social Union (CSU) remain the largest faction, their share of the vote fell from 41.5% at the 2013 election to 33%, putting her in a weakened position. For her current Grand Coalition partner, the Social Democrats (SPD), the election result was a disaster. Its share fell to only 20.5%, its worst result in the post-World War Two era. Against this background, the SPD has little interest in forming another Grand Coalition as a junior partner, but instead wants to rebuild, and reconnect with its traditional voter base.
Thus, the likely government will be made up of the so-called "Jamaica coalition", named after the colours of the Jamaican flag: black for the CDU/CSU, yellow for the Liberal Democrats (FDP) and green for the Green Party.
From the point of view of international trade, protectionism and relations with China, the Green Party is likely to want to take a harder line on human rights, and provide less support for a business-as-usual approach on the part of German companies trading with China. The Greens are also likely to keep a close eye on Chinese support for new coal-fired power stations across Asia. Their share of the vote was 8.9%.
However, the FDP is a traditional voice for free markets, and is likely to be unsupportive of any protectionist measures. After the electoral disaster of 2013, when the FDP polled under 5% and so lost its presence in Parliament, new boss Christian Lindner has revitalised the party, which won 10.7% of the vote. He will now want to press for economic reforms such as lower taxes and a more flexible labour market.
Soon to be losing his job is minister for foreign affairs Sigmar Gabriel (SPD), who has, at times, taken a hard line with China over trade issues.
Gabriel took over as foreign minister in January this year, after previous incumbent Frank Walter Steinmeier moved to become German President (a largely ceremonial post). Before that, Gabriel was vice chancellor and minister for economic affairs and energy, where he had some high-profile disputes with China.
In October last year, Gabriel blocked the takeover of German chip manufacturer Aixtron by Fujian Grand Chip Investment Fund. The deal had already been agreed by shareholders via a tender offer, and the Chinese side was irritated by the late (and very public) way in which the deal was blocked, when the matter could have been resolved more quietly early on in the process.
Shortly after this decision, Gabriel was scheduled to visit Beijing together with a trade delegation, where he made some outspoken comments about the need for better access for German companies to the Chinese market. His Beijing visit, which included meetings with the then-commerce minister Gao Hucheng and premier Li Keqiang, was marked by irritation on both sides.
Since then, Germany has put in place stricter rules for reviewing inward investment from China, after a wave of M&A deals saw some high-profile takeovers. On July 12 2017, an amendment to the German Foreign Trade and Payments Ordinance was adopted. The amendment aims to tighten control by the German government over acquisitions of domestic companies by foreign investors.
The main elements include closer review of foreign investments in the field of critical infrastructure, and an obligation to notify acquisitions. All forms of investments in Germany made by investors who are based outside the European Union (EU) and European Free Trade Association (EFTA) may be reviewed, and prohibited on grounds of public order or security by the Federal Ministry of Economic Affairs and Energy.
The amended Ordinance lists examples of security-relevant sectors and focuses on so-called critical infrastructures, such as energy, information technology and telecommunications, transport and traffic, health, water supply, food, as well as finance and insurance. Certain acquisitions of companies active in these sectors now fall under a mandatory filing regime.
The election was notable for the arrival in Parliament for the first time of the right-wing populist party Alternative for Deutschland (AfD). In 2013 they polled 4%, below the 5% threshold to win seats in Parliament, but this time came in with 12.6%. Their arrival in the Bundestag is causing concern in Germany, since the party includes neo-Nazi elements, in addition to supporters simply registering a protest vote.
For the moment, the Grand Coalition government will continue to run Germany, while negotiations get underway to build the Jamaica coalition. This process will be complicated, given the very different policy positions of the three factions, and is likely to take several months.
Angela Merkel first became German Chancellor in 2005, at the head of a Grand Coalition between the CDU/CSU and the SPD. After the election four years later in 2009, Merkel was able to pursue her preferred option of forming a coalition with the smaller FDP.
However, at the 2013 election support for the FDP slumped to under 5%, and it was out of the Bundestag. With her coalition partner gone, Merkel moved back to a Grand Coalition with the SPD.
Contributing editor Michael Marray is based in Frankfurt.
-------------------------------------------------------

Social Media Links (This section can be seen in office only):
Twitter : https://www.theasset.com/article-single.php?id=33507&social=twitter
Linkedin : https://www.theasset.com/article-single.php?id=33507&social=linkedin
Facebook : https://www.theasset.com/article-single.php?id=33507&social=facebook