How CM Port's recent Brazil acquisition strengthens China's BRICS strategy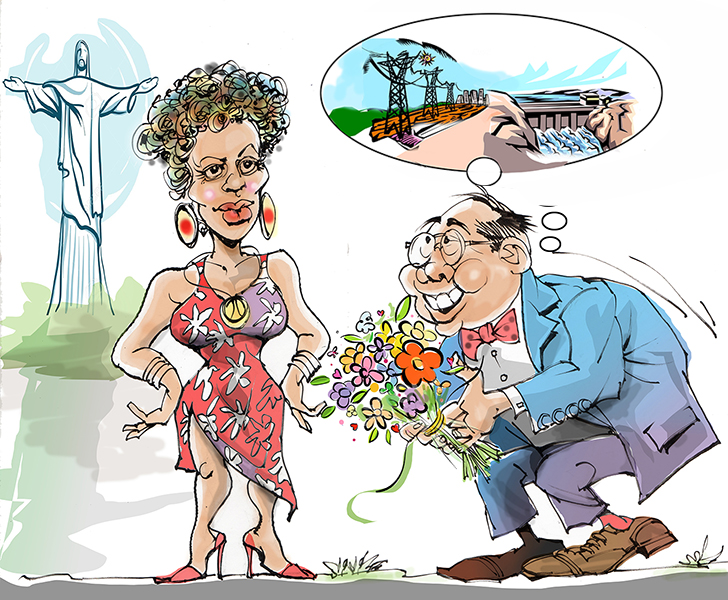 China Merchants Port Holdings recently signed an agreement to acquire a 90% stake in Brazilian container port operator TCP Participacoes for 2.89 billion Brazilian reals (US$930 million). The acquisition is significant in strengthening China's already considerable presence in Brazil, forming part of its global strategy of infrastructure investment in BRICS and Belt-Road countries.
The agreement continues CM Port's aggressive appetite for port acquisitions. Earlier this year CM Port announced a US$1.12 billion investment in Hambantota Port in Sri Lanka back in July and a 5.43 billion yuan (US$784 million) investment in Shantou Ports Group in April. CM Port's acquisition appetite is a key rating constraint according to Moody's.
The acquisition forms part of China's strategy to strengthen ties with the other BRICS (Brazil, Russia, India, and South Africa) countries, as well as under the Belt Road initiative, and was signed during the BRICS Summit in Xiamen on September 4. China has recently formalized rules restricting outbound M&A, which has led to a recent drop in outbound M&A in 2017, according to a PwC survey. However, China is encouraging acquisitions in logistics and infrastructure, as well as those aligned with government strategies such as the Belt Road.
The acquisition also furthers China's inroads in Brazil, following on from State Grid's acquisition of Brazil's largest non-state-owned electricity group, CPFL Energia, earlier this year. China Three Gorges has also become a major hydro power operator in Brazil, having won bids to take over the operation of assets whose concessions were expiring, and last year it acquired 2.27GW of hydropower facilities from Duke Energy International Brazil Holdings for US$1.2 billion.
Further, Brazilian President Michel Temer met President Xi Jinping in Beijing, ahead of travelling to Xiamen for the BRICS Summit. In Beijing, the two leaders were present at the signing of important projects in the electricity sector. State Grid Corporation signed an agreement to build the second phase of the ultra-high-voltage direct current transmission project associated with the Belo Monte hydropower plant. And China National Nuclear Corp signed a memorandum of understanding with Eletronuclear, a leading nuclear power company in Brazil. Other areas covered by cooperation agreements signed on September 1 include e-commerce, tourism, finance and sports.
Trade ties between China and Brazil are also on the increase. Data from the Brazilian Ministry of Industry, Foreign Trade and Services (Mdic) show that from January to August Brazilian imports of Chinese goods totalled US$17.5 billion. This made China the biggest seller of products to Brazil, overtaking the position traditionally occupied by the United States. Shipments of Brazilian products to China account for 25% of total Brazilian exports.
The Brazilian port operator, TCP, holds a concession running until 2048 to operate the container terminal in the Port of Paranagua, which lies 300 kilometres south of Sao Paulo. It is the second-largest container port in Brazil, and can handle 1.5 million twenty-foot equivalent units (TEUs) annually. This will increase to 2.4 million by 2020, under a previously planned expansion on which work is expected to begin later this year.
CM Port intends to use TCP's marine transportation hub to develop its logistics network and export/import and industrial zone to bring greater synergies to its port operations.
CM Port is listed on the Hong Kong Stock Exchange, and has port investments in China, Sri Lanka, Togo, Djibouti, Nigeria and Turkey. It also holds a 49% stake in marine terminal services provider Terminal Link SAS, with French container line CMA CGM holding the other 51%.
CM Port is the largest public port operator in China in terms of container throughput, with a market share of roughly 33% in 2016. Its holdings include a 25.15% stake in Shanghai International Port (Group). CM Port is itself 62% controlled by China Merchants Group, a conglomerate wholly owned by the State-owned Assets Supervision and Administration Commission (SASAC) of the State Council of China.
The transaction is subject to government approvals, including from the Brazilian antitrust and regulatory authorities. CM Port expects the deal to be completed by the end of 2017. It plans to fund the transaction through a combination of internal resources and debt.
Moody's Investors Service says that the transaction is credit negative for CM Port, but has no immediate impact on its Baa1 issuer rating and negative outlook. "CM Port's investment in TCP reflects its aggressive acquisition appetite that weighs on its credit profile and increases its leverage," comments Osbert Tang, Moody's vice president and senior analyst. This is reflected in CM Port's negative ratings outlook.
"The TCP acquisition follows CM Port's July announcement of an investment in Hambantota Port in Sri Lanka, and will further increase its exposure to emerging countries that carry higher geopolitical and execution risks than its home market of China," Tang adds. He notes that the transaction exposes CM Port to the Brazilian operating environment in which the company has limited experience. Moody's says that any further significant debt-funded capex will pressure the rating to a level that may no longer be consistent with its current level.
Illustration by Sara Seneviratne. Additional reporting by David Wingrove.