Yancoal and Glencore partner to run Hunter Valley mines in Australia
After Yancoal won the bid for the Hunter Valley Operations (HVO) mines last month, they went from rival bidders to partners with Glencore as they signed an agreement to run HVO under a joint venture.
In July, Chinese miner Yancoal and Anglo-swiss conglomerate Glencore were locked in a bidding war for the assets of Coal & Allied, owned by Rio Tinto, which includes a 67.6% stake in the Hunter Valley Operation (HVO) mines in New South Wales. Glencore lost the bidding when Yancoal raised its final winning bid to US$2.7 billion.
"The strategic acquisition of Coal & Allied will redefine our position within the global coal marketplace and strengthen Yancoal Australia for the future," Yancoal chairman Xiyong Li said in a statement. Prior to the bid, HVO was owned by Coal & Allied Industries (67.6%) and Mitsubishi Development (32.4%).
Since Yancoal's acquisition, Glencore has signed an agreement to acquire a 49% interest in HVO, with 16.6% from Yancoal and 32.4% from Mitsubishi. Yancoal will control the remaining 51% stake in HVO.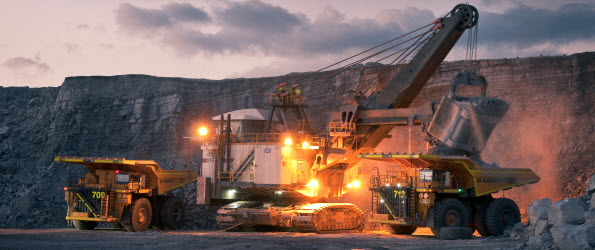 Hunter Valley Operations, New South Wales. Photo credit riotinto.com
Glencore will pay cash consideration of US$1.14 billion plus a 27.9% share of the US$240 million non-contingent royalties over five years, and 49% of price contingent royalties payable by Yancoal to Rio Tinto on production from HVO in respect of the Coal & Allied acquisition.
Glencore will be the exclusive marketing agent for HVO coal sales into Japan, South Korea, and all other countries excluding China, Taiwan (with certain exclusions), Thailand and Malaysia. Glencore already owns assets next to HVO, and can realize efficiencies by running two mining complexes close to one another.
Yancoal Australia said recently that it will raise US$2.5 billion in equity to fund the purchase of Coal & Allied. Its parent company, Yanzhou Coal Mining Co, will commit US$1 billion. Glencore Plc will subscribe to US$300 million worth of shares as part of the joint venture agreement. Two Chinese investment groups, China Cinda Asset Management Co. and Shandong Lucion Investment Holdings Group Co, are committing another US$1 billion to the entitlement offer.
On August 7 Yancoal said in an ASX filing that Cinda has now received Foreign Investment Review Board (FIRB) approval to acquire its stake in the company. Parent company Yanzhou is listed in Shanghai, Hong Kong and New York. ASX listed-Yancoal is now positioned as Australia's largest pure play coal producer. It also has a stake in the coal terminals at the port of Newcastle.
Chinese companies are continuing to strengthen their position in the global coal industry, though at the same time some government-related institutions are pulling back from coal because of climate change considerations.
The Asian Infrastructure Investment Bank (AIIB) is keen to assert its independence from the wider Belt & Road initiative, and recently set out its strategy on energy, which will generally avoid supporting the construction of coal fired power plants.
"While fossil fuels will continue to play a significant role in the energy mix of most of its member countries, the bank will focus on supporting and accelerating its members' respective transitions towards a low carbon energy mix, including lower carbon emissions from fossil fuels," the AIIB said. The bank will finance investments that are demonstrably compatible with a country's transition toward sustainable, low carbon energy and internationally agreed targets.