Shandong Gold makes global push with Barrick Gold alliance
Shandong Gold is taking its global ambitions a step forward by signing a strategic cooperation agreement with the largest gold mining company in the world, Barrick Gold.
The immediate focus is on mining projects in South America, but Barrick has a broad global footprint of joint ventures, including copper mines in Saudi Arabia and Zambia.
Shandong Gold Group was established in 1996 and has its headquarters in Jinan, Shandong Province. As a large state-controlled enterprise, it leads China's gold industry in terms of gold output and reserves. The group's Shandong Gold Mining Co unit was listed on the Shanghai Stock Exchange in 2003, and has a current market capitalization of approximately US$9.7 billion. Shandong Gold Group produced approximately 1.2 million ounces of gold in 2016.
Barrick was founded in 1983 by Canadian entrepreneur Peter Munk, and is headquartered in Toronto. Its shares trade on the Toronto and New York stock exchanges.
Working together, the two will be a formidable force in the global gold and copper mining industries, and will further Shandong's internal push as part of the Belt and Road initiative. China is the world's largest gold importer.
A statement said that the two companies began developing a relationship in April 2016 with a meeting between the two chairmen.
"Our ambition is to make Barrick a leading twenty-first-century company in any industry in any jurisdiction, and by definition, that means creating a distinctive, enduring, and trust-based relationship with China and China's best companies," commented Barrick executive chairman John L Thornton.
As a first step in the new partnership, Shandong Gold Mining Co will acquire 50% of Barrick's Veladero mine for US$960 million. The Veladero open pit mine is located in the San Juan province of Argentina, approximately 10 kilometers away from the Argentinian Pascua-Lama project, which is in the early stages of development.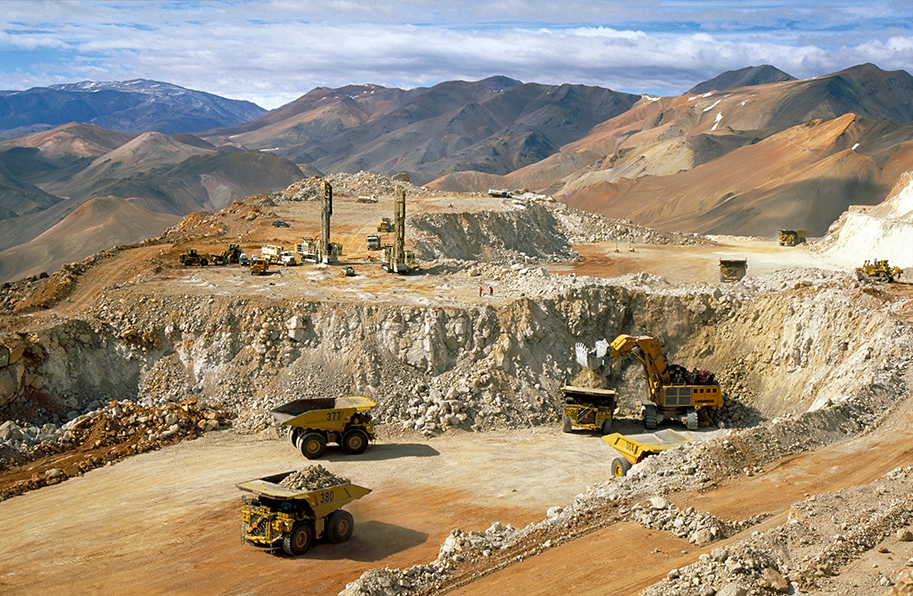 Veladero gold mine, courtesy Barrick Gold.
As step two, Shandong will work with Barrick to explore the potential of investing in and jointly developing the Pascua-Lama deposit. To advance this, Shandong will embed a team of underground mining engineers and project development specialists with Barrick's Pascua-Lama project team.
As a third step, the companies have also agreed to work together to explore additional investment and development opportunities on the El Indio Belt, including the Alturas project, in addition to other global opportunities.
Barrick joint ventures include the Lumwana copper mine in Zambia, the Porgera gold mine in Papua New Guinea, and the Zalvidar copper mine in Chile.
Meanwhile the Jabal Sayid copper project, a 50-50 joint venture with Saudi Arabian Mining Company (Ma'aden), commenced commercial production in July 2016.
Barrick holds a 50% interest in the Super Pit open cast mine near Kalgoorlie in Australia, with Newmont Mining Corporation holding the remaining 50% interest. There had been widespread speculation in recent months that Barrick was about to sell its Super Pit stake to another Chinese controlled company, but there has been no announcement on the fate of that deal.
The initial focus is on South America, and both companies will evaluate additional investment opportunities on the El Indio Gold Belt on the border of Argentina and Chile, which hosts a cluster of projects including Veladero, Pascua-Lama, and Alturas.
The Pascua-Lama gold seam straddles the border between Chile and Argentina, and on the Chilean side the project is currently at a standstill because of environmental issues. In April 2013 Barrick announced that it was suspending construction work on the Chilean side, while working to address environmental and other regulatory requirements to the satisfaction of Chilean authorities. In December 2014 the Supreme Court of Chile declined to consider an appeal of a lower court decision regarding sanctions imposed on the Pascua-Lama project by the country's environmental regulator.
"Our goal is to build a long-term relationship with Barrick, and this agreement encapsulates exactly what we wanted to achieve," Shandong chairman Chen Yumin commented after the signing of the cooperation agreement. "In this global economy, it is more important than ever to find international partners with a common vision for developing mines and generating prosperity in an environmentally and socially responsible manner. We are excited to enter Argentina's dynamic mining industry in partnership with Barrick at Veladero, while exploring other opportunities in one of the most prospective mineral districts in the world."
The transaction has already received approvals from China's National Development and Reform Commission (NDRC), and the State-owned Assets Supervision and Administration Commission (SASAC) of Shandong Province. Applications for approval by other Chinese regulatory authorities, including MOFCOM (Ministry of Commerce) and SAFE (State Administration of Foreign Exchange), are underway. Shandong Gold Group, the direct and indirect holder of 56% of the outstanding shares in Shandong Gold Mining Co, has already agreed to vote in favour of the proposed transaction.
Norton Rose Fulbright represented Shandong Gold Mining on the acquisition of the 50% stake in Veladero and strategic cooperation agreement, while Barrick Gold was advised by Canadian law firm Davies Ward Phillips & Vineberg, and Beijing-based law firm Zhong Lun. Offshore firm Appleby was also involved in the deal, serving as Barrick's Cayman counsel. Meanwhile, Brons & Salas handled matters related to Argentinian law for Shandong Gold. CIBC World Markets is acting as financial advisor to Barrick.
-------------------------------------------------------

Social Media Links (This section can be seen in office only):
Twitter : https://www.theasset.com/article-single.php?id=32743&social=twitter
Linkedin : https://www.theasset.com/article-single.php?id=32743&social=linkedin
Facebook : https://www.theasset.com/article-single.php?id=32743&social=facebook