Standard Chartered, Citi win big in The Asset Triple A Asset Servicing Awards 2018
Standard Chartered accepts Best in Asset Servicing award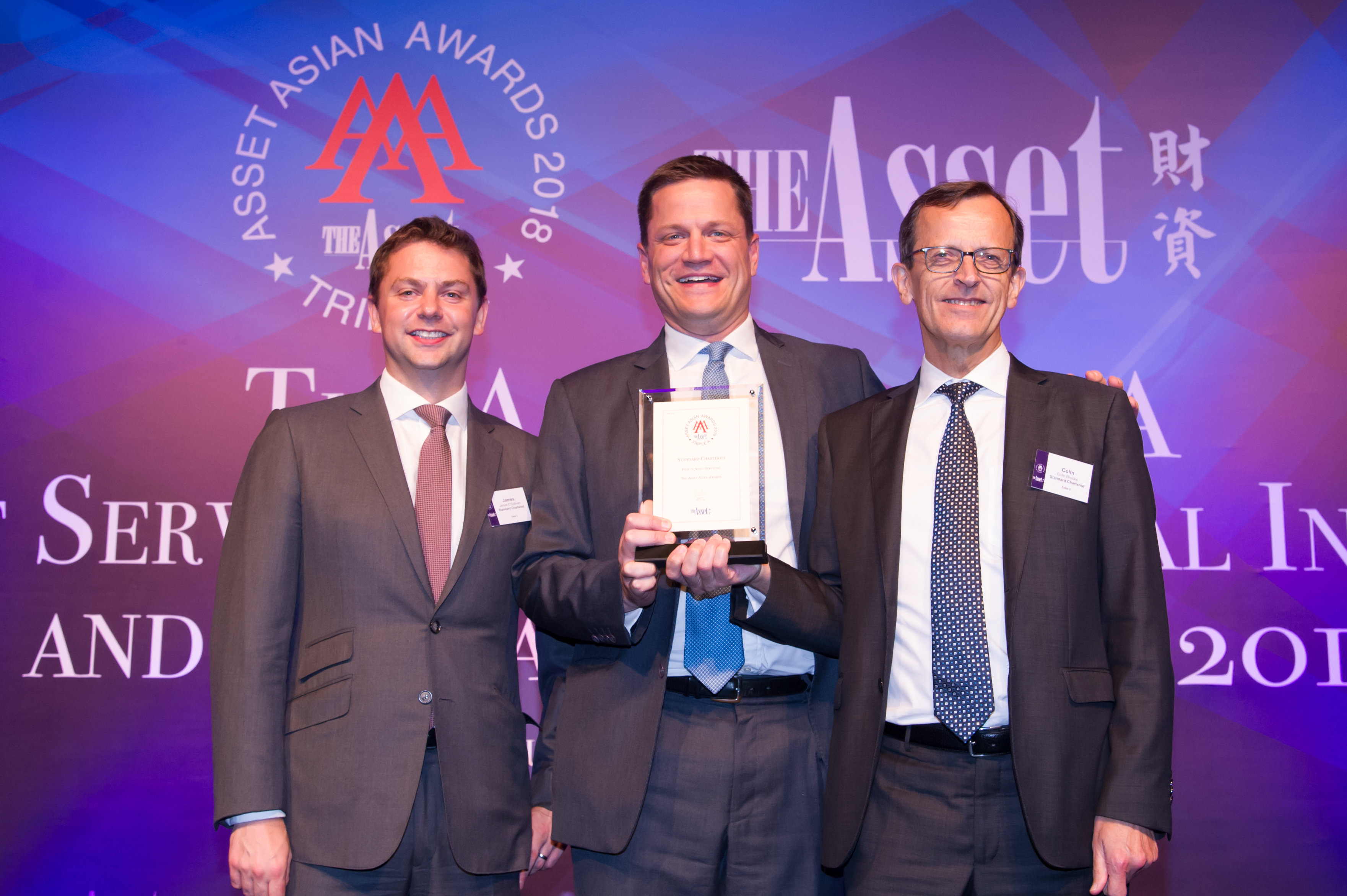 Technology and a challenging market environment are blurring the lines of engagement between service providers and their clients. Under these conditions, participants who have been nimble and flexible to adjust to the new realities without sacrificing the quality of their service have emerged as top winners in the The Asset Triple A Asset Servicing, Institutional Investor and Insurance Awards 2018.
Standard Chartered Bank has won the Best in Asset Servicing award after exhibiting strong growth in asset and revenue last year. The Bank onboarded hundreds of new mandates in 2017, and was actively engaged in markets including China. Standard Chartered Bank is also dedicated to automation and digital transformation. The bank enhanced its settlement and workforce management capability with advanced automation. In addition to its introduction of AI and chatbot, the single-touch custody model from TCS BaNCS enabled the bank to provide its clients access to markets including Asia, Africa and the Middle East. The bank is also one of the leaders in market advocacy.
Citi has defended its Best Custodian – Overall title this year, exhibiting its strength in both global custody and subcustody businesses. The bank also won the Best in Corporate Trust award for its outstanding performance in terms of revenue and presence in markets such as India and China. The bank holds a large market share of the common depositary and DTC custodian business globally.
In choosing this year's winners, The Asset reached out to several bank clients to gain further insights on their regional operation and services. Client feedback had guided The Asset Board of Editors in their selection of the winners. The process of seeking client feedback has been a major part of the awards programme over the last four years.
BNY Mellon was the winner of Best Global Custodian, International Clients award. Despite a restructuring in the company, BNY Mellon was able to show creativity in its global custodian business. The bank set up in Singapore its 8th innovation centre that aims to co-create solutions with clients. BNY Mellon is dedicated to creating data-driven solutions for its clients.
The bank also won Best in Collateral Management award for showing innovation and widening its regional footprint, boosting its presence in markets including China and South Korea. The institution shows passion in China's Stock Connect and Bond Connect and has rolled out the new Stock Connect service that enables international clients to access Chinese equities for collateral and financing purposes.
BNP Paribas was the winner of Best Global Custodian, Asia-Based Clients awards. By winning the global mandate of the Beijing-based Asian Infrastructure Investment Bank (AIIB), the bank intensified competition in the global custody, which has been largely dominated by US financial institutions. Client feedback had indicated that BNP Paribas offers customized solutions and is detail-oriented and responsive.
BNP Paribas was also recognized as the Rising Star in Best Fund Administrator, Alternatives category, for recording notable growth in its asset under administration and custody, as well as its client base. The institution also rolled out innovative solutions to improve its service capability.
Northern Trust was Highly Commended in Best Global Custodian, Asia-Based Clients category. Northern Trust has onboarded new clients and won additional business from existing ones last year. Asian clients have indicated their satisfaction in dealing with Northern Trust when it comes to providing global custody service.
State Street won the Best in Securities Lending award for its innovation and efforts at digitalization. With about 30 on-the-ground staff in Asia Pacific, State Street showed its commitment to this region by expanding its market. In late 2017, the institution won New Zealand Superannuation Fund's mandate which is its first mandate in this market.
HSBC, for the ninth consecutive year, was the winner of Best Subcustodian award for its strong presence in more than 10 countries in the region. In markets such as Australia, Malaysia, Thailand, Sri Lanka, Hong Kong, Japan and the Middle East, HSBC posts competitiveness in terms of market share or business expansion. HSBC was also awarded Best Fund Administrator, Retail and Best Fund Administrator, Alternatives awards. The institution's fund administration service is provided from 19 sites globally. In 2017, HSBC worked with a number of existing and new clients to launch new funds. The bank's asset under administration, especially in the alternatives business, saw steady growth.
Deutsche Bank won the Best DR Bank award for its efforts to innovate. It introduced the Transferable Custody Receipts, which has recorded success in Latin America. The plan is to launch the same in the Asia-Pacific region.
This year The Asset received 225 submissions from more than 50 market participants for the award.
To see the list of winners please click here.
-------------------------------------------------------

Social Media Links (This section can be seen in office only):
Twitter : https://www.theasset.com/article-single.php?id=34740&social=twitter
Linkedin : https://www.theasset.com/article-single.php?id=34740&social=linkedin
Facebook : https://www.theasset.com/article-single.php?id=34740&social=facebook