Why Bond Connect may become the preferred route for investors
The newly-launched Bond Connect is expected to become the preferred route for foreign investors who want to invest in Chinese government bonds. However, some overseas investors are still hesitant to increase their participation in the onshore bond market.
The is because the long-term benefits brought about by the Bond Connect are expected to outweigh any existing doubts or hesitations on the part of overseas investors compared to other ways of accessing the onshore bond market.
"The Bond Connect is a game-changer, in our view, for global investors seeking access to high quality sovereign debt and the attractive yields that China's Interbank Bond Market (CIBM) can provide. It may also accelerate the inclusion of China in major bond indices which would have important implications for bond investors globally. Given the opportunity that Bond Connect presents for international investors to access the CIBM more easily, we expect it to become the preferred route," says David Furley, senior portfolio strategist for State Street Global Advisors (SSGA).
Furley's comment is based on the initial enthusiastic response to the Bond Connect based on its first day of trading on July 3 when it posted 142 transactions with a total volume of US$1.04 billion. However, asset managers appear to have taken a wait-and-see position on Bond Connect since the initial trading day because the onshore market has remained relatively stable.
Although no official data on Bond Connect transactions have been released since its launch, data from the China Central Depository and Clearing Co (CCDC), the official bond clearing house, indicate that overseas investors increased their holdings of all Chinese bonds by 4.5% to 841.5 billion yuan in July 2017.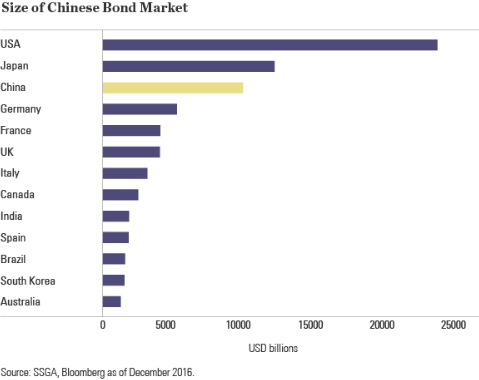 Nevertheless, the structural benefits to trading on the Bond Connect are expected to attract more overseas investors to the onshore bond market in the medium- to long-term.
"Before Bond Connect, overseas investors had to go through an onerous process of opening an account, applying for local currency quotas and finding an onshore clearing agent with international settlement capability," says Bruce Zhang, portfolio specialist at SSGA.
There are several benefits of the Bond Connect for overseas investors. There is no need for an onshore settlement agent, no investment quotas are required, no requirement for onshore deposits, and investors are now allowed offshore hedging.
"Foreign investors were only allowed access to the onshore bond market in February last year, with conditions attached. Bond Connect now effectively displaces this type of access and takes things much further. All these changes will make trading more efficient and documentation much simpler as there is no longer any need for a separate onshore account," says Furley.