Infrastructure REITs to bolster China's securitization market
Public offerings seen as part of efforts to encourage direct financing and lower the leverage ratio of local governments
18 Jan 2021
|
Derrick Hong
As the second-largest securitization market in Asia, China is looking to further expand its domestic asset-backed securities (ABS) market. In August the China Securities Regulatory Commission (CSRC) for the first time issued a guidance on the public offering of real estate investment trusts (REITs) in the infrastructure sector.
The infrastructure sector has been driving China's economic growth over the past decade. Yet, as the growth of infrastructure investment slows down, China's regulators are facing several challenges in this sector.
Speaking on the first day of the Asian Financial Forum on Monday (January 18), Yanyi Ci, head of the fixed income team, investment banking department, at China International Capital Corporation, says: "There are two major hurdles in China's infrastructure sector. Firstly, there is a lack of centralized operational model. Secondly, the size of the infrastructure project makes it difficult to trade and discover the price."
With a large stock of infrastructure assets in China, public offering REITs are regarded as a financial innovation in the country's capital markets, with the market size expected to reach US$3 trillion.
Similar to international practice, China's infrastructure public offering REITs are modelled after close-end mutual funds and available for trade in exchanges. Unlike traditional REITs with real estate projects as underlying assets, China's infrastructure public offering REITs, issued by asset managers, are required to invest at least 80% of its total assets in infrastructure securitization projects, with the rest invested in interest rate bonds, investment grade corporate bonds, and money market instruments. The cash flow generated from the underlying infrastructure ABS will provide the income for the infrastructure REITs.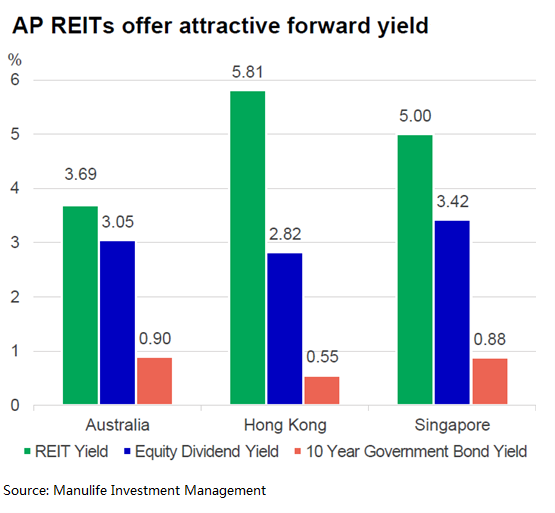 Infrastructure projects, often sponsored by local governments, local government financing vehicles or state-owned enterprises, have added to China's rising debt level. While these sponsors were able to securitize their assets through ABS, infrastructure REITs were mostly sold to private funds.
Infrastructure public offering REITs, now open to retail investors, are seen as part of China's efforts to encourage direct financing and lower the leverage ratio of local governments.
For income investors in Asia, REITs offer a relatively higher yield compared to government bonds and equity dividends. It is likely that China's Infrastructure public offering REITs can also provide an attractive return to investors. In terms of investor protection, the CSRC guidance set skin-in-the-game requirement for project sponsors. Sponsors are required to purchase 20% of the REITs as strategic investors.
It is reported that regulators may authorize the first few REIT products in the first batch and get them listed as soon as the first quarter of 2021 under a trial that began in August.
"We expect and believe that with public offering REITs being issued regularly in large scale, regulators and local governments will speed up formalizing the regulatory framework, which will create a better regulatory environment for public offering REITs." says Ci.