What do trade tensions with China mean for India's renewable energy sector?
Chinese equipment enables India's renewable energy firms to compete with coal-fired power plants
INDIA'S renewable power capacity is accelerating, and is among the most promising markets in the Asia-Pacific. The government of Prime Minister Narendra Modi has set a target, as part of the country's commitment to the United Nations Sustainable Development Goals, to install 175GW of renewable energy capacity by 2022, including 100GW from solar.
But recent border tension with China is casting a long shadow that could potentially affect the pace with which project sponsors and investors remain engaged in India's renewable energy sector. According to industry insiders, solar energy equipment such as panels, inverters and modules from China would typically account for up to 70% of projects that have the option to source content from imports.
Chinese equipment not only enable India's renewable energy companies to compete with coal-fired power plants, charging a third less according to recent estimates, upgrades in technology also enhance operating efficiency further improving cost for the generating companies. With India's rapid adoption of renewable energy, it is now among the top five countries globally.
In her recent report, Radhika Rao, economist, India, Thailand and the Eurozone at DBS Bank notes that even before the border conflict, India has already been tightening up on foreign direct investments from countries that it shares a land border with, which includes China. Tariffs also have been proposed for certain product groups along the lines of anti-dumping.
"We haven't seen the end of the relationship becoming frosty," believes Rao. "Renewable power, especially solar modules, if there are commissioned projects that need imports and tariffs are higher, it could cause effects down the line – escalation in the costs."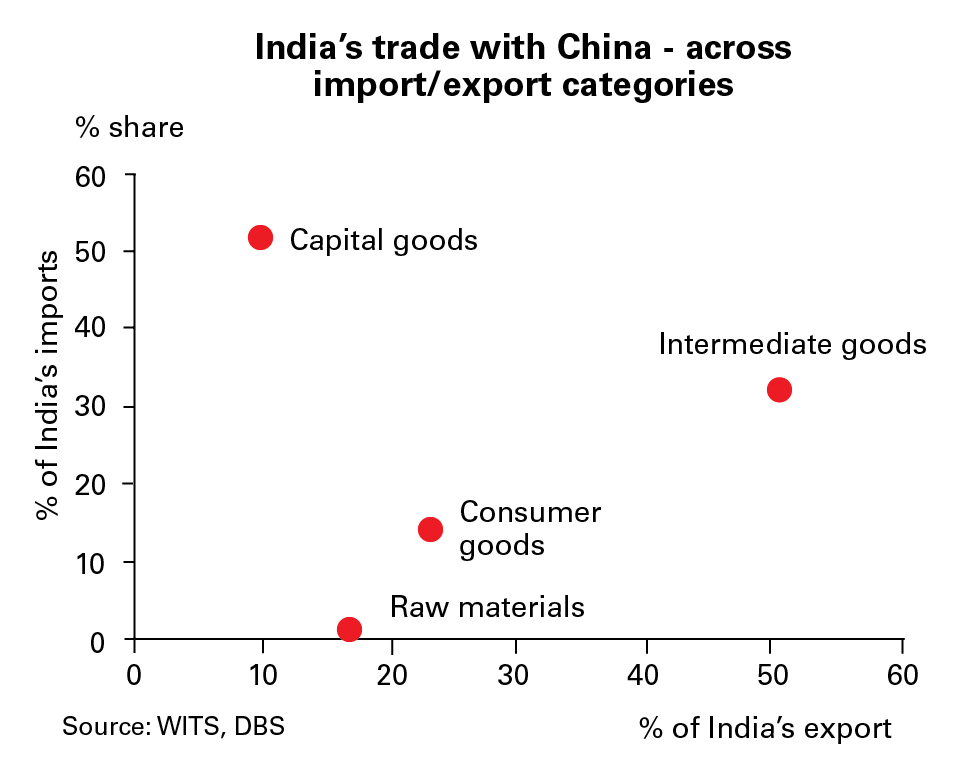 Prime Minister Modi, during the unveiling of the coronavirus stimulus package in May 2020, reiterated his vision of Atmanirbhar Bharat, or self-reliant India. The pandemic, he believes, could accelerate India's manufacturing sector, including the production of solar panels and equipment for the renewable energy industry.
But this vision is likely easier said than done. "There might be import restrictions but they will be at a more incremental pace. We don't believe there will be a blanket ban to begin with. The authorities have also seen across various sectors what kind of global supply chain dependency the manufacturers have. In so far as solar is concerned, especially in the module space, there is quite a big dependency with 70% to 80% imported from China."
One project sponsor notes the need for the authorities to improve the policy structure, which does not help the manufacturers vis-à-vis imports. "Manufacturing is not a transaction. Companies do not set up for one or two years," one company executive notes.
"Decisions on ring-fencing or making imports difficult or expensive are more on sound bites rather than reality. Even if imports are discouraged, it does not always translate to helping manufacturers because of what is passed through, and often for a limited period. We are looking forward to what different policy initiatives are to be taken by the government now so that it becomes sustainable. Trade relationship is one part. It can deteriorate in a short time, and it can improve in a short time."
India's renewable energy sector was among the topics covered at The Asset Events+ webinar on Winds of Change, Ray of Hope, a high-level discussion on the development of renewable energy in the Asia-Pacific on 15 July 2020. For more information, please click here.