Global asset managers hit record US$3.6 trillion of real estate AUM
CapitaLand, ARA Asset Management, GLP dominate Asia-Pacific
TOTAL global real estate assets under management (AUM) hit a record US$3.6 trillion at the end of 2019, according to the Fund Manager Survey 2020, published by ANREV, INREV and NCREIF. In the Asia-Pacific region, total real estate AUM amounted to US$608.2 billion at the end of 2019, up from US$586.2 billion a year prior.
The 2019 results reflect a sizeable rise of 14.0% on 2018's tally of US$3.2 billion, despite the fact that a number of managers were unable to respond to the survey because of the Covid-19 global health pandemic. The growth in total AUM was largely attributable to increased investor inflows and capital appreciation.
Managers with an Asia-Pacific focus contributed 16.7% to total AUM, while North American strategies accounted for the highest percentage of total AUM at 36.6%. This was closely followed by those in Europe with 33.8%. Global strategies accounted for 12.3%.
CapitaLand maintained its top spot in the fund manager rankings for Asia-Pacific AUM, with US$62.5 billion allocated to real estate in the region, closely followed by ARA Asset Management with US$60 billion. GLP ranked third with US$38.3 billion. The three firms, with a combined US$160.8 billion in Asia-Pacific AUM, accounted for just over a quarter (27.3%) of total AUM committed to real estate in the region.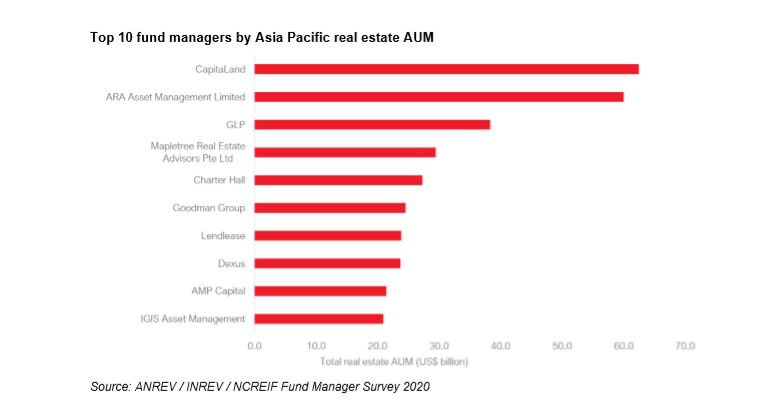 Globally, Blackstone topped the list of real estate AUM with nearly US$280 billion, ahead of Brookfield Asset Management with US$201.9 billion and PGIM Real Estate with US$179.2 billion. Nuveen and Hines completed the line-up of top five managers with US$132.7 billion and US$132 billion respectively.
Collectively, this year's top 10 asset managers globally accounted for around 40% of the overall total, each achieving at least US$100 billion of AUM.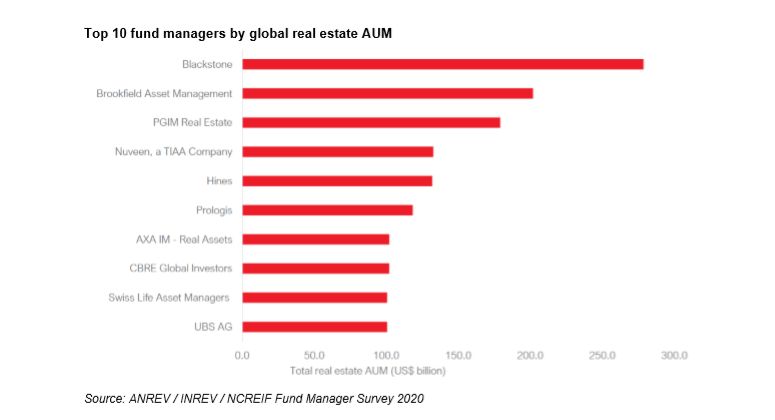 Despite the gap in average AUM separating the top 10 managers from the rest, the overall growth rate for medium and smaller managers outstripped that for larger managers at 18.6% and 11.5% respectively.
Non-listed vehicles and market consolidation
Non-listed real estate vehicles – which include funds, separate accounts, joint ventures, club deals, funds of funds and debt products – amounted to a substantial 82.2% (US$3 trillion) of total AUM in 2019. This dominance was also reflected in the Asia-Pacific region, where such vehicles accounted for 71.2% of AUM allocated to real estate in the region. However, the region was not as reliant on these products as in Europe, where non-listed vehicles made up more than 90% of AUM, and in North America where it was 79.3%.
Within this grouping, non-listed funds represented the majority of non-listed real estate vehicle AUM in the region, accounting for 52.7% – a trend reflected globally where funds accounted for 44.6% of non-listed real estate vehicles in total, making them the most popular form of investment structure regardless of geography.
Blackstone jumped up in the ranking of top 10 managers by non-listed real estate funds AUM in the region, from fifth place with US$13.3 billion in AUM in 2018 to first place with US$19.2 billion in 2019. CapitaLand edged ahead of GLP to take second place with US$18.1 billion, compared with third place with US$17.8 billion in 2018. GLP had Asia-Pacific non-listed real estate funds AUM of US$17.7 billion in 2019, down from US$19 billion in 2018.
Of the notable alternative vehicle types, JVs and club deals were more prevalent in the region than in Europe and North America, amounting to 29.5% of non-listed real estate AUM compared with 9.5% and 18.5% respectively for its counterparts. Non-listed debt products were much more preferred in North America than elsewhere, where they accounted for 14.3% of AUM, compared with 3.6% in Europe and 1.3% in Asia-Pacific.
The survey results also highlighted the continuing trend for market consolidation. In 2019, 20% of respondents reported having been involved in mergers and acquisitions activity over the past decade, with a third of them citing a desire to extend their geographic reach as a key motivation.