The Asset Triple A Regional Awards 2017
In the highly-anticipated Oscar-style awards ceremony, The Asset honours the best banks and advisers which arranged the deals that defined the capital markets in Asia in 2017
Best bank -
Citi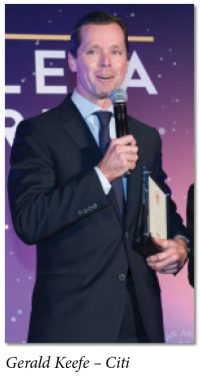 Citi continued its drive to being the top bank in the region by focusing on its universal banking capabilities. Last year, the institution in consumer banking established additional digital partnerships with the likes of AXA and Honestbee, on top of its existing partnerships with Line and Lazada. Moreover, the bank has improved on its digital onboarding procedures and posted growth in its online cards business.
In corporate and institutional banking, Citi participated in significant deals backed by its strong all-round franchise. In Korea, for example, the bank had a strong equity markets performance, participating in a number of interesting block trades. The bank helped develop the equity markets of the Philippines and Vietnam, participating in landmark deals in those markets as well.
Within fixed-income in particular, Citi was involved in a range of deals, including the sovereign issuances of Sri Lanka and the Philippines. Moreover, the bank worked with both investment grade and high-yield issuers. One of the key deals for the bank was Alibaba's US$7 billion multi-tranche offering, which included the first 40-year tenor in over two decades. Overall, the bank recorded continued growth in net income compared to 2016, supported by both institutional and consumer banking groups.
Best ESG bank - Bank of America Merrill Lynch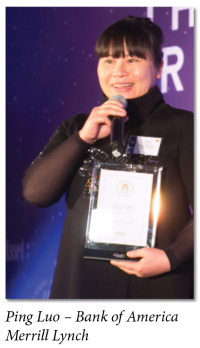 Bank of America Merrill Lynch (BofAML) won the Best ESG (environmental, social and governance) bank award for the second year running at The Asset Triple A Regional Awards, topping a number of like-minded ESG institutions.
BofAML continued to make strides in ESG, working closely with Chinese companies looking to expand their renewable assets. In 2017, it helped China State Grid Corporation acquire Brazil's largest renewable energy company, CPFL Energia. Moreover, the bank worked with the likes of Korea Development Bank, and Industrial and Commercial Bank of China in their respective green bond issuances last year.
Internally, the bank also supports more than 60 charities in Asia-Pacific through philanthropic grants and volunteering. It has been very active in supporting women's rights and LGBT equality in Asia.
Best corporate and institutional bank/ Best equity adviser/Best leveraged and
acquisition finance adviser - Credit Suisse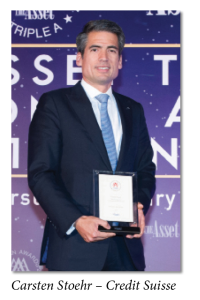 Credit Suisse notches the Best corporate and institutional bank award in Asia as it participated several key Asian deals. The bank additionally was one of the top earners in the Asian investment banking space, raking in revenue of US$458 million in 2017. In debt capital markets, for example, the bank was an active player in the China high-yield space working with the likes of Kaisa Group Holdings and China Evergrande Group on their complex debt deals.
In M&A, Credit Suisse's team was, as in previous years, very active in the Greater China region. During the review period, the bank closed ChemChina's US$43 billion acquisition of Syngenta and arranged deals in various industry sectors. The bank has a strong presence in Southeast Asian markets such as Indonesia.
The Credit Suisse equity franchise in particular captured the technology trend in Asia, and was involved in transactions such as China Literature's US$1.1 billion IPO, which jumped 64% in early debut trading. Other highlight technology deals for the bank include Zhong An's US$1.8 billion IPO. Outside of Greater China, Credit Suisse broke new ground in Vietnam with Vincom Retail's US$741 million IPO, the largest ever equity offering in the frontier market.
In acquisition financing, the bank executed several landmark transactions in 2017, including the first Asia deal by I Squared Capital to purchase Hutchison Global Communications. In addition to acting as sole financial adviser to the company, it provided a joint underwriting financing commitment of HK$7.137 billion (US$910 million) in support of I Squared's competitive bidding process.
In another deal, Credit Suisse was a joint mandated lead arranger, underwriter and bookrunner in the US$394.3 million financing facility for Mu Sigma, a rare deal with a US borrower with innovative structure to lock-in the onshore Indian cash. It was also involved in funding the acquisition of the geothermal business of Chevron by Star Energy, apart from providing M&A advisory and hedging solution to the deal.
Best renminbi bond adviser - Bank of China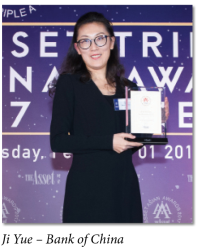 Bank of China (BoC) has established its dominance in the Panda bond business, bringing a number of deals that defined the market in 2017. These include the first ever Panda bond issue by Hungary amounting to one billion renminbi (US$158 million) for three years. It was a joint lead underwriter in the three-tranche 30 billion renminbi financial bond by China Cinda Asset Management Company – the largest ever such bond by an asset management company.
In July 2017, BoC acted as the sole underwriter in the 500 million renminbi deal for Shanxi Road and Bridge Construct Company, which was described as the first poverty alleviation note issued in Shanxi province.
Best debt adviser/Best bond adviser/Best Asian currency bond adviser/Best liability management adviser - HSBC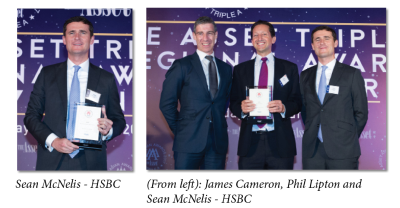 HSBC has a deep and broad debt franchise in Asia that cut across bonds and loans. The bank has a strong presence in both G3 and Asian currency bond markets, topping the league table for G3 bonds issuance in the region in 2017 with volume of US$27.05 billion from 210 deals, according to Thomson Reuters. It was involved in sovereign deals for China – which in October 2017 tapped the offshore bond market for the first time since 2014 unrated for US$2 billion – Indonesia, Korea and Sri Lanka.
HSBC brought into the market several mega offshore deals from Chinese financial institutions and corporates such as the US$7.25 billion additional tier 1 offering by Postal Savings Bank of China – the largest ever such capital issuance from a Chinese commercial bank – and the US$5 billion issue from State Grid Corporation of China, the largest US dollar only bond offering from a Chinese corporate state-owned enterprise.
The bank captured a large slice of the G3 corporate hybrid issuances with 23 transactions in 2017, including eight fixed-for-life perpetual deals, such as those for Ayala Corporation and CK Infrastructure Holdings. It was also a leader in sustainable financing through a number of inaugural green bond offerings, such as the first US dollar green bond by a Singapore financial institution for DBS amounting to US$500 million and the maiden green bond issued by Korea Development Bank.
In the Asian currency bond markets, HSBC showcased its capability in arranging cross-border local currency issues in renminbi, Hong Kong dollar, Singapore dollar and Indian rupee. It brought innovative structures such as the Belt and Road Initiative bonds, green bonds, liability management, bank capital and inflation-linked bonds into the Asian local currency markets. These include the first ever green Masala bond from an Indian non-banking finance company, Indian Renewable Energy Development Agency, amounting to 19.5 billion rupees (US$300 million) and the first Panda bond issue from a financial institution in Asia outside of Hong Kong for Malayan Banking (Maybank) amounting to one billion renminbi.
HSBC executed 13 public liability management transactions in G3 currencies, with eight of those deals done on a sole basis. It arranged the first liability management exercise from Bright Food (Group) Company, which involved inserting mandatory redemption clause with call price at a discount to the tender price, enabling Bright Food to achieve its objective of cleaning up the entire US dollar notes.
Best equity-linked adviser/Best emerging market bond adviser - Deutsche Bank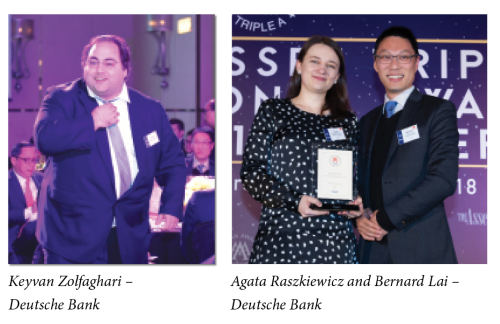 Truly a pan Asian bond house, Deutsche Bank extends its geographical outreach across the region and strengthens its foothold in all the different industries of the issuers. It was able to expand its Southeast Asian franchise into the Malaysian market with the transaction for Press Metal Aluminum Holdings, whose US$400 million senior notes priced in October 2017 represented the first US dollar high yield rated corporate issuance out of Malaysia in over a decade.
Deutsche Bank was the sole global coordinator and left lead bookrunner in the US$1.35 billion senior unsecured notes for Wynn Macau printed in September, which was the largest high yield offering ever in North Asia and the first 10-year bond for Macau gaming sector.
In the equity-linked space, Deutsche Bank was likewise a standout having been the sole bank in a number of market defining deals. During the review period, the bank was part of Shanghai International Port/PSBC's US$1 billion dual-tranche exchangeable bond. The deal marked the largest ever equity-linked issuance by a Chinese insurer in the past 10 years. This is the second year in a row that Deutsche Bank has claimed the Best equity-linked adviser award.
Best M&A adviser - Morgan Stanley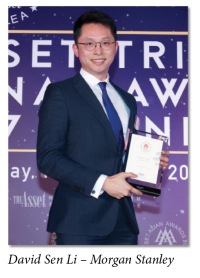 Morgan Stanley made a significant mark on the Asian M&A landscape in 2017, with activity spanning from India to Singapore. The bank was one of the financial advisers in GLP's US$11.7 billion privatization, one of the most significant private equity buyout of an Asian company. It was also able to close the PAG Asia Capital's US$1.5 billion purchase of Yingde Gases. In India, Morgan Stanley was involved in GIC's US$1.39 billion acquisition of DLF Cyber City Developers and the merger between Cairn India and Vedanta. Even in frontier markets, the bank was active being part of a group of advisers who guided Papua New Guinea-based InterOil through its acquisition by ExxonMobil's estimated at US$3.12 billion.
Best loan adviser/ Best Reit Adviser/ Best brokerage - DBS
In winning the best loan adviser award, DBS was involved in financing key M&A and event-driven deals such as the acquisition loan for Nesta Investment Holdings backing the take-private transaction of Global Logistic Properties by a consortium led by Hillhouse Capital and HOPU Investment Management. It was a mandated lead arranger and bookrunner in Belle International's US$6.8 billion privatization and in the acquisition financing for Star Energy consortium to acquire the geothermal and power businesses of Chevron in Indonesia and the Philippines.
DBS is a market leader in commodity financing space with deals for Trafigura, Vitol, Mercuria and Gunvor. It brought first time borrowers into the Asia loan syndication market such as Halcyon Agri Corporation, Aircastle and Pacific International Lines.
The bank also has a particular strength in the Asian real estate investment trust (Reit) space helping arrange several significant deals in the region. Such deals include the Keppel-KBS US Reit US$448 million IPO which was oversubscribed 6.7 times. DBS has a dominant position in the Singapore Reit market.
DBS Vickers Securities defended its title in 2017 as the best regional brokerage with deep coverage in North Asian and Southeast Asian markets. The DBS Vickers Securities team in particular had a strong year in Thailand. The brokerage also had its eye on expansion during the review period partnering with Emkay Global in India. DBS Vickers Securities was also noteworthy with its expertise on Asian mid/small caps and the Reit market.
Best securitization adviser - Standard Chartered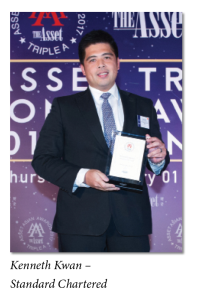 Standard Chartered retains its title as the Best securitization adviser in Asia spearheading a number of firsts in the market. The bank, for example, took the lead in China Opportunity International's US$632 million securitization of Chinese local government bonds.
The transaction served as a groundbreaking repackaging platform that provides international investors direct access to Chinese local government bonds. Standard Chartered was also involved in Ford Automotive Finance (China)'s 3.77 billion yuan ABS, which marked the first ABS transaction in the CIBM with international participation via Bond Connect.