Enhancing the global Islamic finance ecosystem
There is a need for greater awareness not just for sukuk, but SRI overall
The Securities Commission Malaysia is playing a significant role in enhancing the country's stature as a global Islamic financial hub with innovative initiatives that include the promotion of green SRI sukuk, Islamic ETF, Islamic fund and wealth management
As a recognized leader in Islamic finance, Malaysia continues to innovate, provide thought leadership and enhance the ecosystem not just in the Malaysian markets, but also globally. The Securities Commission Malaysia is at the forefront of the country's Islamic finance initiatives.
Demonstrating leadership, the Securities Commission in August 2014 launched the framework for sustainable and responsible investment (SRI) sukuk to facilitate the financing of SRI initiatives, which expands the sukuk framework by including terms on the utilization of proceeds, eligibility, and reporting and disclosure requirements.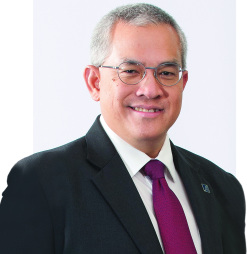 "We wanted to reach out to those who may not necessarily seek Shariah-compliant products, but would like to look at SRI," explains Securities Commission deputy chief executive Datuk Zainal Izlan Zainal Abidin. The principles of Islamic finance share significant commonalities with SRI, which offers opportunities for Islamic finance to develop products for the more conventional investors.
The first SRI sukuk was issued in May 2015 when Malaysia's sovereign wealth fund Khazanah Nasional priced a seven-year offering amounting to 100 million ringgit (US$24.80 million). It was fully subscribed through a day of book building and attracted the participation of a diverse group of investors, including foundations, corporates, banks, pension funds and asset management companies.
The proceeds of the inaugural offering were used to fund schools under the Yayasan AMIR Trust School programme. Yayasan AMIR is a non-profit foundation incorporated by Khazanah to improve accessibility to quality education in the Malaysian government schools through a public-private partnership with the ministry of education.
A second SRI sukuk was launched in June 2017 worth 100 million ringgit, with a similar tenor of seven years. The sukuk was priced at a profit rate of 4.60% if the key performance indicators (KPIs) were not met and 4.20% when the KPIs were fulfilled. These KPIs set the required achievement levels for the number of trust schools to be implemented, the performance of teachers and the respective schools' leadership as well as student outcomes.
This is the first SRI sukuk in Malaysia to include a retail offering amounting to 5 million ringgit. This provided an opportunity for individual Malaysians to support the implementation of the trust school programme. Through the retail offering, investors were also able to give back to society via impact investing.
Last year the first ever global green SRI sukuk was priced in Malaysia. Proceeds was used to finance solar energy projects by Tadau Energy amounting to 250 million ringgit. This was followed by the issuance of another green SRI sukuk amounting to one billion ringgit by Quantum Solar Park to fund three solar power plants.
Centre for sustainable finance
These deals mark another milestone in product innovation for Malaysia that enhanced its position as a leading Islamic finance marketplace as well as its value proposition as a centre for sustainable finance. They also illustrate how Malaysia leads in advocating convergence between Islamic and green financing.
"The transactions attracted a lot of attention and interest not just from the traditional Islamic investors who were looking for Shariah-compliant products, but also from conventional bond investors and from those who were looking for SRI products," notes Zainal Izlan. "This is one area that we feel has a lot of potential and a lot of scope for growth because green SRI sukuk is largely untapped."
To enhance the interest for green SRI sukuk among issuers, Capital Markets Malaysia, a unit of the Securities Commission, is administering a green SRI sukuk grant scheme. Under the programme, institutions raising funds to finance green projects compliant with the SRI sukuk framework are entitled to claim 90% of the cost incurred on independent expert review – also known as a second opinion that certifies a debt instrument is meeting the green criteria – subject to a maximum of 300,000 ringgit per issuance.
The grants are open to both domestic and foreign companies in any currency provided the sukuk is issued in Malaysia, with grants being tax-exempt for applications received before December 2020.
"It makes more sense to issue Shariah-compliant green sukuk since an issuer can reach out to a broader base of investors and obtain a better pricing because of the ensuing demand," says Zainal Izlan. "You are opening your investor base substantially to Middle Eastern investors and to the likes of takaful operators who can only invest in Shariah-compliant products. And even the Employees Provident Fund has allocated a certain part of their fund for Shariah-compliant investment."
As Zainal Izlan points out, Malaysia has an advantage in this regard because its current tax regime facilitates the issuance of sukuk by having a level playing field. "In many conventional bond jurisdictions where they do not have tax neutrality, it is more expensive to issue sukuk," he says. "In Malaysia, it is just about equal in terms of issuing cost for sukuk and conventional bonds."
So how does Malaysia create real value for SRI sukuk in the marketplace? For Zainal Izlan, there is a need for greater awareness not just for sukuk, but SRI overall particularly in Asia where, he says, there is less appreciation of the SRI agenda. "The US as well as the European and Scandinavian countries are already embracing this concept extensively," he adds.
To enhance such awareness, Zainal Izlan says there is a need to inculcate the economic benefits of adopting SRI practices to encourage the management and the shareholders of companies to pay more attention to the SRI agenda.
He explains: "Once you've created awareness about the benefits of SRI, then you can establish the link between SRI and the Islamic principles. That is why we hope those who may not necessarily look for Islamic products, but would like to invest in responsible and sustainable manner would include Shariah-compliant products as part of their investable universe."
Global hub for Islamic funds
The focus on SRI is also highlighted in Malaysia's five-year Islamic fund and wealth management blueprint, the first of its kind in the world. Launched in January 2017 by the Securities Commission, the blueprint aims to leverage Malaysia's well-developed Islamic capital market ecosystem to establish the country as a leading international centre for Islamic fund and wealth management.
The blueprint focuses on key strategic thrusts – to strengthen Malaysia's position as a global hub for Islamic funds and develop the country as an international provider of Islamic wealth management services. It also aims to establish Malaysia as a regional centre for Shariah-compliant SRI on the back of Malaysia's position as the largest SRI market in Asia.
Malaysia's Islamic fund and wealth management blueprint recommends designing a framework for SRI funds, establishing a global centre for Islamic capital market and introducing a digital investment services framework.
"Islamic wealth management is still in the nascent stage of development and we want to develop a broader ecosystem that goes across all the value chain from wealth generation to wealth accumulation, wealth preservation and then wealth distribution," says Zainal Izlan.
The blueprint outlined 11 recommendations for Malaysia to achieve the desired status by 2021. It focused on addressing the impediments to growth and innovation, while identifying opportunities for collaboration and partnerships, as well as accelerating the process of building scale.
Indeed, one of the challenges confronting Islamic wealth management is how to build scale as it is starting from a low base compared with the conventional wealth management sector.
"This is an important area that we need to work on collectively as we build our ecosystem," adds Zainal Izlan. "The industry needs to engage with international stakeholders, including the likes of sovereign wealth funds from the OIC (Organization of Islamic Cooperation) countries, which have huge assets under management to encourage them to have dedicated Shariah mandates. Malaysia is pursuing these efforts. One way of doing it is through our licensed fund managers who go out to other countries to market their products and services. We are facilitating that by establishing mutual recognition agreements with other markets, such as Dubai."
The recommendations, among others, provide enabling frameworks to support innovation in Islamic markets, enhance market access and international connectivity, promote the growth of private equity as well as drive institutional participation in Islamic funds.
Wider range of SRI products
The recommendations also include introducing new digital business models, products and services for Islamic funds and wealth management, developing facilitative market infrastructure and fortifying talent pipeline for Islamic wealth management.
To encourage greater growth of SRI funds in Malaysia, the Securities Commission in December 2017 issued guidelines on SRI funds, which widened the range of SRI products in the market and attracted more investors in the SRI segment.
The introduction of the guidelines that enabled certain funds to be designated as SRI funds was another significant step towards the further development of the SRI ecosystem in the Malaysian capital market.
The SRI fund guidelines applies to fund products where the Securities Commission has oversight, such as unit trust funds, real estate investment trust funds, exchange-traded funds (ETFs), venture capital and private equity funds. The guidelines also introduced additional disclosure and reporting requirements that aim to encourage greater transparency in investment policies and strategies of SRI funds.
In addition to building the Islamic wealth management sector, the Securities Commission is looking to develop new product areas such as waqf – or Islamic endowment. "We want to develop the vast amount of waqf assets through the capital markets so that they can generate commercial benefits, in addition to the social benefits that they originally meant to achieve," says Zainal Izlan
The Securities Commission also established a task force to further promote the ETF market in Malaysia. The task force made the ETF issuance more convenient and cheaper from the issuer perspective, reducing the capital requirement from 10 million ringgit to two million ringgit
Previously, a fund manager is required to appoint a principal adviser, typically an investment bank, to make a submission to the Securities Commission to set up an ETF. Today the fund manager himself can make the submission.
On the investor side, the Securities Commission is working with Bursa Malaysia and some private ETF operators in creating greater awareness on the value proposition of ETFs.