Looking beyond conventional intermediary
Twenty years ago, Veerathai Santiprabhob was a young economist with the International Monetary Fund sent to Bangkok to help put the flames out of a spreading economic crisis. Today, he is the governor of the Bank of Thailand
The income gap in many Asian countries will widen further and threaten social and economic stability. Those with higher capital will benefit more from economic growth and new technology, leaving further behind those without access or know-how, warns Veerathai Santiprabhob.
In a talk at a seminar during the 50th annual meeting of the Asian Development Bank in Yokohama in May 2017, the governor of the Bank of Thailand believes that it is crucial that Asian banks and businesses understand developments in society at large that could have an impact on their operating environment.
"Evidence has shown that benefits from economic growth are highly concentrated and not at all broad-based," he argues. "Rising income inequality has raised social polarization and we have seen it coming to Asian politics even before the Brexit vote and US presidential election."
He urges banks and financial institutions to look beyond the conventional financial intermediary function and to get actively involved in addressing the key issues of the economy. "After all, the financial system is the blood vessels of the economy."
Veerathai points out that having a smooth functioning financial system is a necessary condition for growth. Going forward, he adds, banking must focus on three keywords: productivity, immunity and inclusion.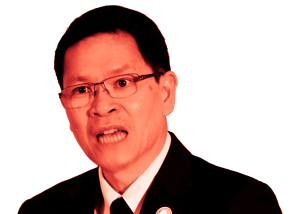 To enhance productivity, the trends in technology, together with research and development, will be the key enablers to increase productivity in Asia. "Banks have to embrace and employ technology not only to improve the organization's own competitiveness but also to be able to provide more efficient and lower-cost financial services to Asian businesses and households."
He advises that regulators need to establish an ecosystem that encourages financial innovation, competition and efficiency improvement. Veerathai indicates that there are at least two areas that would help improve productivity in banks and financial institutions. "First, digitization will certainly enhance productivity in financial services."
In Thailand, he shares that electronic payment and digital banking have become increasingly widespread. "Under the national electronic payment programme, businesses, households and the government will significantly benefit from the cost reduction of financial services both in terms of money and time saved. Many initiatives under the programme, he expects, will provide the foundation for many new add-on applications that will improve productivity across the different segments of the Thai society.
Second, financial connectivity, particularly within the region will also play a key role in enhancing productivity. He points out that there are already many ongoing initiatives: promoting the usage of local currency in the region, the Asean banking integration framework, the Asian payment network and the Asian bond and capital market initiatives.
Equally important is immunity. Veerathai says it starts from "safeguarding against blood infection" ensuring that banks have adequate capital and provisioning cushion to be able to withstand swings of economic cycles and financial volatility. He reiterates the Thai central bank's support for the regulatory reforms instituted after the global financial crisis to address systemic risk.
To complement these rules and build a better immune system that is strong and resilient through any cyclical or structural shocks, he also believes it is necessary to target the underlying factors in contributing to immunity: the culture and behaviour of banks.
"Fundamentally, an organization is predominantly defined by its behaviour and culture. They influence operations in almost every level within an organization ranging from decision making, strategic positioning as well as risk appetite and risk taking."
The BoT governor points to the incentive structure, which has to focus more on long-term gain rather than short-term profits: "The desired compensation scheme should fully reflect that aim." Further, he elaborates that the strong culture of risk awareness and good governance should be rigorously instilled such that it becomes the organization's culture and natural behaviour of bankers.
The other area of immunity for financial institutions is the immunity against cyber-security risk. "Everyone, every bank and every system must be prepared and ready to both prevent and respond effectively to cyber-security risk," he underscores. "Incidents of cyber-attacks, no matter how small, can undermine the integrity of the financial system. To boost the immune system, it is imperative that cyber-resilience and cyber-security be given the highest priority."
Finally, he views social stability as a necessary condition for financial stability. "The economic benefit of growth has to be inclusive and the financial system can play a significant role in promoting inclusive growth starting with financial inclusion."
To ensure a good quality financial inclusion, financial and financial technology literacy are crucial life skills for both households and small businesses. "Effective financial literacy would help increase consumers' financial discipline and understanding of financial products and risks, thus deepening such basic knowledge and turning concepts into changing behaviour. That would be particularly helpful to shelter vulnerable businesses and households from getting themselves into over indebtedness or starting unsuitable financial contracts."