Innovative compliance
Regulation Technology
Since the global financial crisis, financial firms from around the world have had to deal with tougher regulations involving higher costs. However, with the advent of fintech, a subset trend known as regulation technology (regtech) has the chance to create significant positive impact on how financial institutions deal with regulations.
Rapid innovation within the fintech industry has undoubtedly created a fresh perspective on the relationship between financial institutions and companies/individuals. Ranging from payment processes to alternative financing sources these fintech players come in all sorts of shapes and sizes. Investments have been pouring into the sector amid growing interest. According to KPMG's Pulse of Fintech report global investment into fintech companies was US$24.7 billion in 2016 after reaching a high of US$47 billion in 2015. In 2010 total fintech investment was only around US$9 billion.
While fintech over the last several years has captured headlines around the world, a subset of the trend known as regtech (regulation technology) has the rare chance to create a significant positive impact on financial institutions. But why the push for implementing regtech schemes now? The answer lies almost a decade ago in the dark days of the global financial crisis that led to a number of regulatory requirements being placed on financial institutions resulting from, inter alia, the Dodd-Frank Act.
As a result of the sudden financial reforms, many financial institutions had a knee-jerk reaction towards complying with new standards by investing heavily into litigation and conduct procedures. A McKinsey study estimated the cost of managing the regulatory environment to be more than 10% of all operational spending of major banks, or around US$270 billion per year. A Reuters survey of more than 300 global financial institutions found that 60-70% of compliance professionals surveyed expect their internal budget to increase sometime within the year due to additional regulations.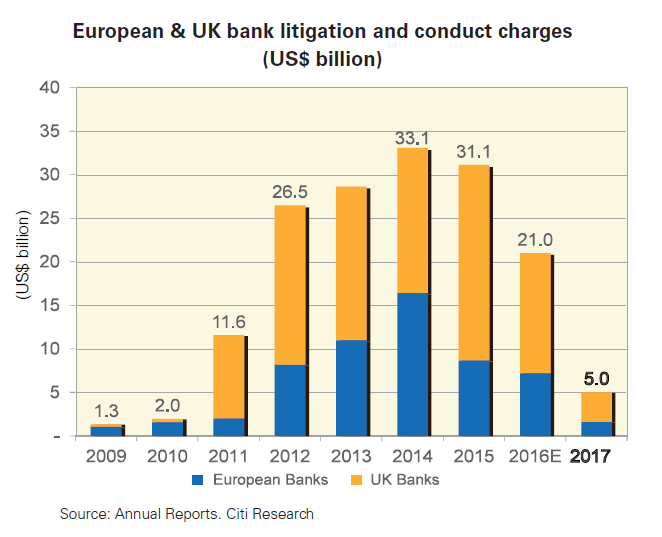 The challenge of having burdensome operating costs has motivated financial institutions to find faster and cheaper ways to comply with regulations. "We see regtech as a huge cost takeout opportunity for financial institutions. Regtech implements risk management and monitoring systems which could help financial institutions to identify, measure, monitor and control risk," notes a Citi fintech report.
In addition to being cost conscious, financial institutions are also concerned about compliance efficiency. In the years following the financial crisis, banks have paid financial regulators around US$321 billion in fines due to breaches of financial law ranging from money laundering to terrorist financing, according to Boston Consulting Group data. Last year, high-profile institutions such as Credit Suisse and Deutsche Bank were instructed to pay US$7.2 billion and US$5.3 billion, respectively to the US Department of Justice for their involvement in the US residential mortgage-backed securities debacle in 2008. Regtech can help firms improve their regulatory compliance accuracy and possibly avoid hefty fines, if used correctly.
The rising cost of regulatory compliance and increasing pressure coming from non-traditional competitors are weighing on bank margins. With generally slower processes, compared to nimble fintechs, most financial institutions are currently caught in a tough situation of complying with stringent regulations while offering real-time seamless experience to retain customers. "Banks have to discover strategies to use their traditional although eroding advantages such as convenience, information and trust to remain on the competitive," says Raghuram Rajan, former governor of the Reserve Bank of India.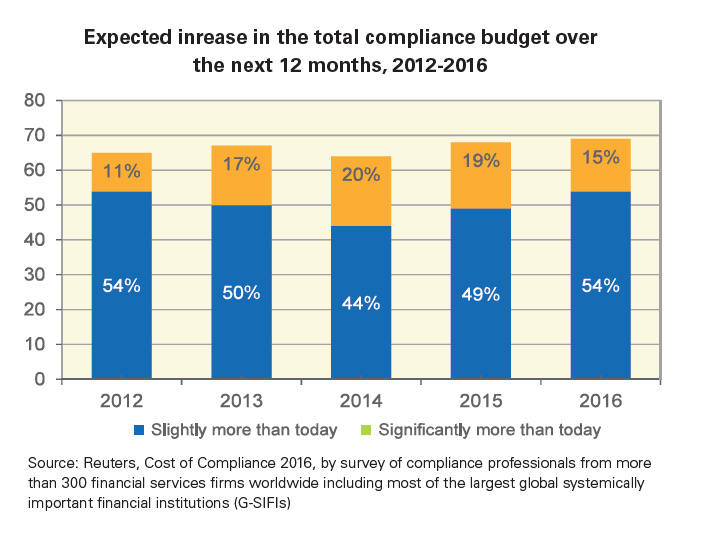 Partnering with a regtech provider is an option for banks. Financial institutions can upgrade their know-your-customer (KYC) and anti-money laundering procedures and be as agile as fintechs in onboarding clients. DBS Bank, prior to the launch of Digibank India, had integrated with India's Addhaar digital identity programme to enable the onboarding of customers in less than 90 seconds.
Though regtech has been a topic of conversation around the world over the last several months, most prominent regtech startups actually operate in developed western markets such as the US and UK. In terms of business models, regtech could involve some sense of KYC verification to stress testing and regulatory reporting. Here in Asia, regtech is still in its early stages, but is nonetheless gaining traction.
Asian-based regtech company KYC-Chain for example is using a distributed ledger system to streamline the customer onboarding process.
"I started this company because I had a decade of experience doing KYC as a professional intermediary. We would go through a full KYC check with a client, hand off to a financial institution, and they would start the KYC process over from square one," shares Edmund Lowell, founder of KYC-Chain. "There is a massive redundancy in the collection and validation of the exact some data by different parties. In other words there is a lack of a consistent digital identity in a KYC process."
As a result of this unnecessary workload on financial institutions, Lowell employed the blockchain technology to add efficiency and security to the process. "With distributed ledger technology or blockchain, it is very easy to have an attestation of a certain attribute. For instance, today we rely upon bills from utility bill companies, current within 90 days to provide proof of address for a natural person. This in turn has huge implications such as tax reporting for this individual," explains Lowell. "However a utility bill can be faked. Whereas with a blockchain, if we have a utility company providing a claim on an attribute we can be certain that this person resides at this address. Hence, it is much more trustworthy."
There is no question that regtech is slowly gaining attention as a potential cost saver and security buffer for financial institutions. However, the key to the industry's growth will be the support from financial regulators. Already in the UK, the Financial Conduct Authority and Prudential Regulation Authority have allocated funding to support future regtech adoption. Within Asia, financial regulatory bodies such as the Monetary Authority of Singapore have announced plans on establishing a national KYC utility. The Reserve Bank of India is currently funding a group of IT entrepreneurs to develop the India Stack, a biometric identification process which could be used in speeding up the KYC process.
Regtech is a factor banks should take seriously if they are resolute about cutting costs and reevaluating the way they approach compliance. With that mindset, financial technology innovation that normally changes established practices could be harnessed to relieve pain points of financial institutions.