Asian bond market and its challenges
How key participants in the debt market are viewing Asia
Despite the noise in the global marketplace, Asia continues to steadily develop its bond market backed by the further liberalization of the debt markets in China and other key markets in the region.
"With integration, markets are cautious about capital flows. Some challenges are policy-imposed ones. Despite these, ABMI (Asian Bond Market Initiative) has come a long way and has gradually shifted its focus from stability to 'what to finance for development'," says Noritaka Akamatsu, senior advisor of sustainable development and climate change department at the Asian Development Bank (ADB). ABMI, which support's the development of the region's bond market, is an ADB initiative.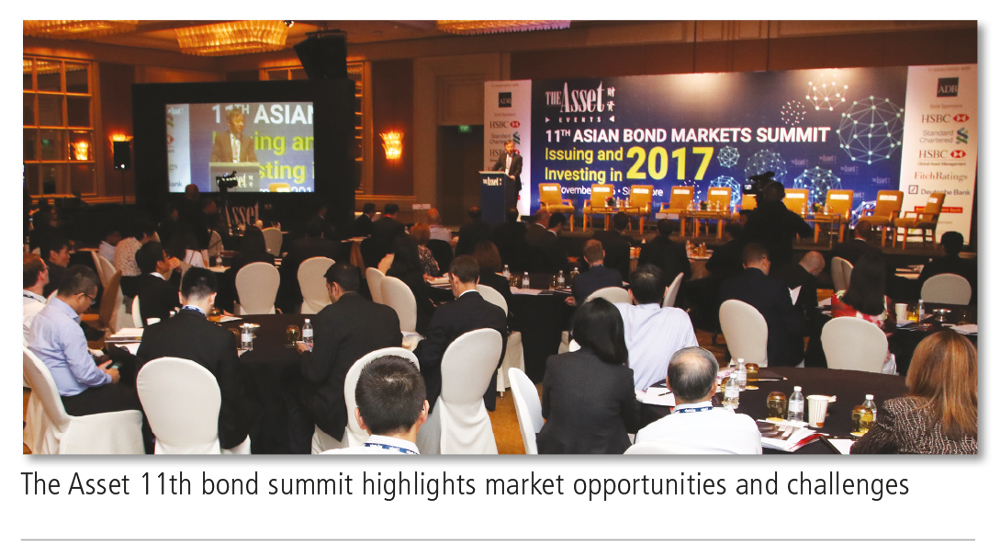 For Peter Davis, treasurer at BOC Aviation, tapping the bond market is an important strategy going forward. "As an investment grade issuer, diversified sources of funding are important for us as is access to the bond market," he says. "From a long-term perspective, it's sensible for us to show ourselves to be a regular and consistent issuer."
Pinank Shah, president and head of finance at Indiabulls Housing Finance, another active issuer, believes in the importance of developing its investor base. "Diversification is on our radar, so we're willing to take that cost," says Shah, referring its careful pricing of bonds so it could attract a wider base of investors.
Mark Young, head of Asia Pacific financial institutions at Fitch Ratings is optimistic about Asia, particularly, China. He warns, however, that given the size of China's bond market – currently Asia's largest – any "movement (including a potential downgrade) of China's rating as a sovereign will have a massive impact (on markets)". Another important development is the further opening up of China's foreign exchange market, says Sean Henderson, deputy head of debt capital markets Asia Pacific at HSBC. "Local currency has been strong this year with the further opening up of the renminbi market," he adds.
Gregory Suen, investment director, fixed income at HSBC Global Asset Management says China needs to attract foreign investors to its debt market. "Foreign participation is low in China though we expect it to slowly increase. Foreign investors don't understand China that well, so they get caught up in the headlines."
Aside from opening up the onshore market to foreign investors, Chinese policy makers have also been active in pushing the country's green agenda. Being almost non-existent last year, the Chinese green bond market has rapidly evolved over the past year and now represents almost half the entire green bond market. "We are seeing increases in investor appetite for green bonds," observes James Cameron, managing director, co-head of infrastructure and real estate group, Asia Pacific at HSBC.
Meanwhile, the impact of China's One Belt One Road (OBOR) strategy on Southeast Asia is becoming an important investment theme for bond issuers. "All the Asean countries, every government has a priority to build infrastructure," says Boo Hock Khoo vice president at the Credit Guarantee & Investment Facility. OBOR plays a role in the region's infrastructure development, he adds. Kalai Pillay, senior director and head of North Asia Industrials at Fitch Ratings says OBOR is positive for Asean, but especially helpful to China, which can "export excess capacity" via the belt and road programme.
In Southeast Asia, the active search for yield was a prevailing theme that resulted in tougher markets. Malaysia, for example, saw a challenging market in 2016. "There was a rise in demand of government securities causing the yields to drop," says Abdul Halim Salleh, senior vice president treasury and capital markets at Cagamas. Despite this, investors expect a robust bond issuance this year. Seohan Soo, executive vice president, capital markets group at AmInvestment Bank says, he expects about 80 to 100 issuances in the market each year. "We also expect a lot of private placements in 2017," he adds.
In Thailand the government has focused on developing its own market for financing. "Prior to the 1997 crisis, we were active issuers in the offshore market, but since the domestic market has developed, we have diversified issuers and a lot of demand from pension, life and social security funds. (It's) difficult to justify going offshore," says Paroche Hutachareon, director of fund management and bond market infrastructure development division at the Ministry of Finance, Thailand.
In the Philippines, there is also strong reliance on domestic liquidity for funding. "Domestic liquidity is still ample and can support the funding requirements of the government," says Erwin Sta Ana, deputy treasurer, bureau of treasury, Philippines. While there may be threats and unseen financial events over the horizon the Asian bond market will undoubtedly continue to develop and welcome new issuers and investors.