Aberdeen to beef up its multi-asset business in Asia
Asset managers are increasing multi-asset capabilities amid continued market volatility
The low interest rate environment and ongoing global market volatility are driving asset managers to consider bolstering multi-asset capability. In Asia, Aberdeen aims to boost its multi-asset investment team so it could make actual investments within the region
With ongoing volatility in global markets expected to remain for much longer, Aberdeen Asset Management has been beefing up its multi-asset capabilities in Asia.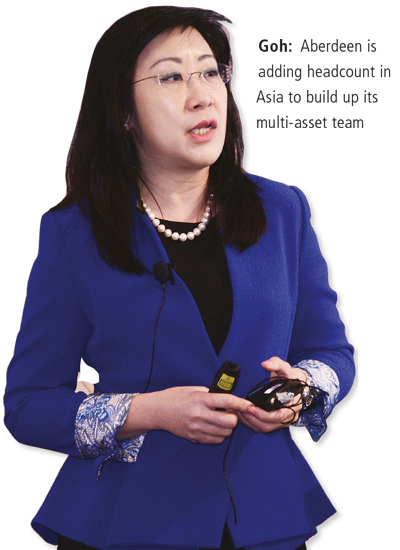 Aberdeen has always been known as an Asian and emerging market equities house. But, in truth, it has been doing multi-asset business out of London for some time now. Its acquisition of Scottish Widows Investment Partnership from the Lloyds Banking Group in 2013 considerably strengthened its multi-asset capabilities. By December 2015 Aberdeen's multi-asset investment solutions team comprised more than 60 investment professionals based in the UK, Singapore and the US.
With the requirements of its Asian clients and institutional investors becoming more complex, Aberdeen has decided to build a regional multi-asset investment team to meet clients' growing requirement.
On May 3 2016, Aberdeen appointed Irene Goh, previously head of multi-asset investments at Alliance Bernstein, to the newly created position of head of multi-asset solutions, Asia Pacific. Originally from Singapore, Goh has also held posts at the Government Investment Corporation and UBS Global Asset Management.
"Multi-asset has been a global capability at Aberdeen for some time. It was given a significant boost when we acquired Scottish Widows because they came with complementing capabilities and services," Goh says in an interview with The Asset.
Aberdeen's multi-manager team, long-only team, a big part of its quantitative investment team, and parts of the alternatives teams such as the private equity team have come from the acquisition, she notes.
"My joining is part of a significant commitment by Aberdeen to grow the multi-asset capability in Asia," Goh says.
Apart from hiring Goh, Aberdeen is adding headcount in the region as part of the buildup of the multi-asset team.
"We will have a senior investment manager coming on board in the first quarter of 2017. We are also bringing in a senior investment specialist for multi-asset. If our plans go well we could also be looking at adding investment headcount in other parts of Asia where there's a case for it. Our plan is to roll these out over the next 12 months or so," Goh says.
This is in contrast to what other multi-asset managers in Asia are doing, which is adding headcount on the client-facing side of the business but doing the investment management from their offices in London or New York.
"We do believe in having a local presence, be it is on the investment side or from the perspective of client interaction," Goh says.
Goh's mandate is to lead the regional effort to design and manage bespoke multi-asset solutions for retail and institutional distribution. She also became senior Asian regional representative of Aberdeen's multi-asset outcome oriented team responsible for the global flagship fund that include growth and income strategies.
A main differentiator for Aberdeen's multi-asset team is its wide array of asset classes that it can use for building its solutions and portfolios. In addition to the principal asset classes of equities and fixed income, it also runs alternatives, which includes hedge funds, private equity (lower and mid-market type transactions), co-investments and fund of funds.
"It's a very privileged position relative to our peers. Most of them just focus on hedge funds, if they run alternative investments at all," Goh says.
Aberdeen also runs strategies investing into real assets, including infrastructure and property multi-manager solutions. It also has a quant team, which runs standalone mandates as well as a growing sum for the multi-asset team.
A second differentiator is that Aberdeen has an open architecture platform that allows it to tap capabilities of external fund managers.
"We embrace open architecture. We know that any asset manager who claims to have all the services is not telling the truth. Even for strategic reasons a fund manager may choose not to have certain services. But what we can do is to fill that gap with external managers' capabilities. That opens up the universe multiple times," Goh says.
Aberdeen has a manager selection team which vets external managers, both long-only and alternative.